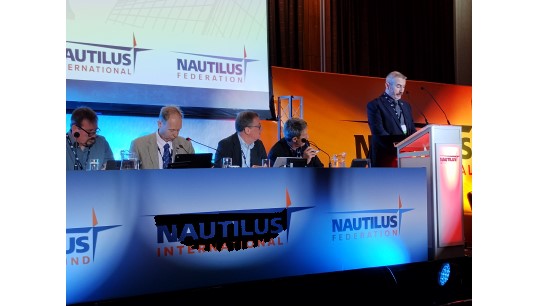 Members at Nautilus's General Meeting in Liverpool have voted unanimously to commit the Union to further campaigning against the scourge of the Flags of Convenience system.
The motion Tackle Flags of Convenience and Grow Domestic Shipping highlights the fact that flagging out often leads to low wages, poor onboard conditions, and long periods of work without proper rest leading to stress and fatigue for workers onboard. It calls on the International Maritime Organization to instigate a global review of ship registration practices and reinforce Article 91 of the United Nations Convention on the Laws of the Sea (UNCLOS), that requires a genuine link between the shipowner and the country of registration.
Further, the motion notes that many countries have enacted laws to protect domestic shipping, which minimises the harm from flagging out, and asks the Union to encourage the Dutch, Swiss and British governments to introduce such laws in order to grow their national flags and increase employment and training opportunities for domestic maritime professionals.
Proposing the motion, Nautilus member Allan Dickson said: 'This practice is at the root of much that is immoral and unethical in our industry. The Flags of Convenience (FOC) regime drives down wages and conditions and induces fatigue. It also leads to increased social dumping and exploitation of labour from developing countries.'
'The FOC regime is at best ambivalent to the seafarers onboard, at worst antagonistic. A lot of this was evident during the pandemic, when articles such as the Maritime Labour Convention were pretty much binned by these governments.
'I speak from experience on this, I was deep sea during the pandemic and nearly stayed onboard for double my contract. Some of my colleagues were well over their absolute maximum, approaching two years onboard. When we looked for help from FOC flag states they were nowhere to be found.
'While the fight against FOCs may often seem like a losing battle, if we don't stand up for our seafarers and try to combat FOCs, who else is going to do it?'
Mr Dickson added that the Union should work to bring together the Dutch, Swiss and other likeminded governments at the IMO to work towards a genuine link between flag and shipowner.
Seconding, Nautilus member Sean Turner spoke on the second element of the motion, the need to pressure the Dutch and UK government to pass laws that can grow domestic shipping industries: 'These laws allow for the retention of skilled maritime professionals, safeguarding fair competition. We should be clear, our neighbours are pushing ahead on this and we cannot afford to be left behind.'
Debating the motion, member Jun Ranario asked why the issue is still ongoing, while member Mick Barrass asked whether in campaigning to improve conditions it would be better to focus at the IMO on flag states with particularly poor records and pressure them to support Conventions such as the MLC and SOLAS as this might be more effective than tackling the entire system.
Responding, Nautilus general secretary Mark Dickinson said: 'Mick makes a very good case, and there's an element of pragmatism about it. And yes, you have to focus on the worst atrocities, you have to highlight those. But I take the fairly purist line like the ITF – taking on Flags of Convenience as a matter of international law, a matter of principle.'
Mr Dickinson raised Covid-19 as an example of why the entire system must be fought to secure the welfare of seafarers: 'We have to continue to campaign – Covid has exposed this system. Who listens to these small nations with huge theoretical fleets? Who did shipowners go to during the crew change crisis? Not to Bermuda or the Marshall islands but to the White House.'
Member Jessica Tyson commented: 'Flags of Convenience are not a new thing. All of us here have felt the affect of FOCs. There doesn't seem much will from governments on this and there's always some reason to sidestep this issue. Often the regulatory framework is in place, but the execution falls through due to lack of personnel or understanding.
'We are an island nation. We need shipping, we are shipping. Let's really put this at the top of our agenda.'
The motion was accepted by members participating in the General Meeting.
The full text is available in the My Nautilus members' area of the Nautilus International website.
---
Tags