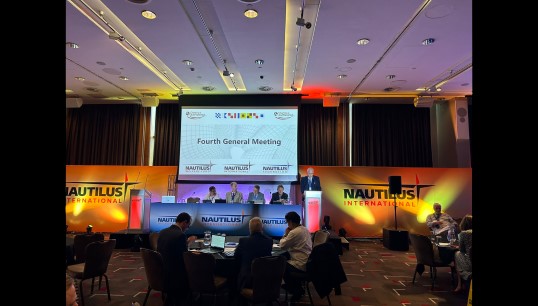 Nautilus will spend the next four years working to address potential hazards to seafarers and the public, following a vote of members at the Union's General Meeting in Liverpool.
The motion Securing Safety at Sea drew attention to the particular threats posed by new technologies and fuels, particularly relating to toxicity, flammability, and explosiveness. It pointed out that respect for the voice of the maritime professionals who will use new technology is critical to ensuring health and safety is prioritised.
Proposing the motion, Nautilus member Henk Eijkenaar said: 'Working at sea is a high-risk occupation. The decisions we make are so often informed by the need to keep ourselves, our staff and everyone onboard safe. It is critical that governments and industry recognise that the health and safety of workers onboard is paramount, and that they work with us to minimise the chances of disaster.
'The transition to new fuels and technologies is underway, which will bring new and distinct risks. We should not be frightened of these changes but understand and acknowledge the dangers. Maritime professionals have a key role to play in mitigating such risks. Our knowledge and skill put us in a unique position to improve safety and ensure it is prioritised.
'Shipowners and governments should recognise that the best way to ensure the transition to new fuels and technologies is to listen to seafarers and their representatives.'
Mr Eijkenaar also highlighted the need for companies to ensure that properly fitting and correctly sized PPE is available for all, especially both female members and Asian seafarers, and the necessity of proper training, procedures and vessels given the risks posed by EV battery fires.
Seconding the motion, Nautilus member Russell Downs added: 'I would like to focus on the point of consultation, as this is at the heart of securing safety at sea. We spend our lives on bridges and in engine rooms. Companies should recognise the expertise we have for the design and procurement of vessels and new technology. When employers seek to consider new fuel types, we should be consulted on the design process.'
Commenting on the motion, member Jessica Tyson said: 'Sadly, the only time we make the news is when a posh ship is launched or when there's a disaster – that means when people die, usually. Nobody wants a dead loved one. Employers need to listen to those at the coal face. We all want to be safe in our homes we all want to be safe in our workplaces. Please support this motion.'
Following a vote of members in support of the motion, the document has now become a resolution committing Nautilus to campaign for the following:
maritime professionals to be consulted during the procurement and design of new vessels ensuring they are designed and built with seafarer safety as a priority
maritime professionals to be properly consulted on the types of fuels shipowners seek to implement into their fleet with full consideration for the risks involved to those operating the vessels
companies to be required to provide comprehensive fire-safety training for maritime professionals working onboard vessels carrying electric vehicles
support the establishment of IMO regulations for the implementation and use of alternative fuels with the view that the regulations should have equal, and where possible, better safety levels than traditional fuel technologies
ensure Personal Protective Equipment (PPE) is available and suitable for different body types, this is particularly relevant for women seafarers
The full text of the motion is available in the My Nautilus members' area of the Nautilus International website.
---
Tags