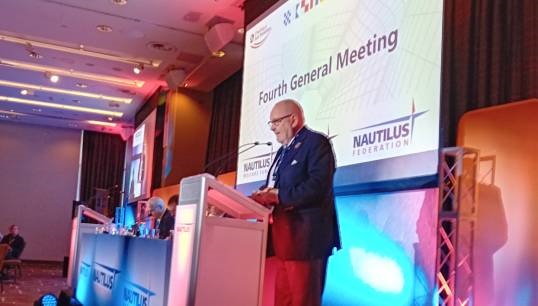 Today's session of the Nautilus International General Meeting saw members mandating the Union to ensure that international principles on human rights underpin its work.
The motion ESG and HRDD noted that while the concept of Environment, Social and Governance (ESG) principles has been in place for many years, the maritime industry has often paid less attention to the social aspect than to environmental and governance matters.

It was also observed that the concept of Human Rights Due Diligence (HRDD) is gaining deserved prominence, with investors and businesses paying more attention to this topic throughout their entire supply chains and investment decisions.
Trade union membership, representation, and collective bargaining all form an essential part of government and employer commitments to ESG and HRDD.
Proposing the motion, Nautilus member Stephen Gudgeon commented: 'It falls upon us as trade unionists to put the "just" in Just Transition.' He stressed that workers should be wary of employers who claim to follow ESG and HRDD principles but are resistant to trade unions.
Seconding, Nautilus member Henk Eijkenaar added: 'Make no mistake: the S in ESG means us, the workers. We need to make sure employers have a genuine moral commitment to us and not just warm words.'
Following a majority vote of members in support of the motion, the document has now become a resolution committing Nautilus to use and highlight concepts from ESG and HRDD when working to achieve continuous improvement of seafarers' rights, terms and conditions, working with international partners such as the Nautilus Federation, ITF and ETF.
The full text of the motion is available in the My Nautilus members' area of the Nautilus International website.
---
Tags