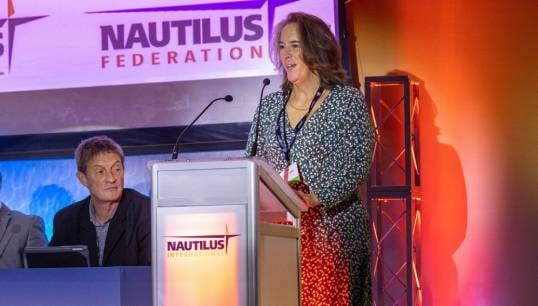 Nautilus has committed to campaign to ensure the transition to alternative fuels and new technologies is achieved in a 'just, equitable and holistic way for seafarers', following a vote of members at the Union's General Meeting in Liverpool.
It commits the Union to addressing existing systemic issues facing sea-going professionals, to help make the sector more attractive to recruit and retain maritime talent.

The motion Charting a Just Transition for maritime professionals highlighted that the maritime industry has already started the transition towards net zero with increasing investment in alternative fuels and new technologies and further automation of vessels, with the pace of change likely to increase over the next decade. It noted the transition will have a huge impact on the working lives of maritime professionals.
Proposing the motion, Nautilus member Captain Jessica Tyson commented: 'Make no mistake, the move to net zero and greater automation will likely be the biggest transformation that our industry has seen in decades, with a huge impact on the lives of Nautilus members.

'We have to commit to protect our members from the impact of technological change. The pace of change will only accelerate over the next decade and we are all involved in this. I will say from my own experience, there are already vessels out there with solar panels and kitted out with sails, all to assist this transition. Industry is already moving so as a trade union we must be ready to move.'

Captain Tyson added that while 'decarbonisation is often viewed through the lens of technology and very central to ensuring a greener and more sustainable future people, people are the backbone of the maritime industry. Without people the industry really is nothing'.

Alternative fuels and new technologies come with new dangers and the people on the frontline need to be in the conversation, said Capt Tyson.

'It is therefore essential that our members the people who live on board and operate ships are consulted in the design and procurement of new vessels and also to provide sensible solutions for the best way forward.

'We must also create fair pay and conditions. Technological change can pose a threat to the livelihoods of maritime professionals. But it is also an enormous opportunity for positive change. Employers cannot, however, be permitted to use this transition as an excuse to cut jobs, reduce pay and increase tours of duty. '

Capt Tyson said the motion 'commits Nautilus International, to campaign to ensure that the move to alternative fuels and new technologies is conducted in a just equitable and holistic way with people at the core' and that 'no one is left behind'.

What this means in practice, is that Nautilus supports the eight principles laid out in the International Transport Workers' Federation sustainable shipping position paper, which states that the just transition must 'improve workers lives and be just ambitious, timely, democratic, equitable, diverse, safe', said Captain Tyson.

'Young people and older people; we all have skill sets in this world of inclusivity, and must be supported while undertaking a career in maritime. The maritime professionals of today must be able to access the training or skills needed to carry on and continue doing the jobs they love or entering into the industry, wherever they are in their career at no cost to them. Or at least it should be minimal.
'As an international trade union, we have to seize the moment to ensure a fair transition, but just transition and address ongoing and long standing in justices.'
Seconding, Nautilus member Fraser Matthew added: 'We are at a crucial point; the world is changing in no small part due to the need to tackle climate change. Shipping is seen as the dusty mode of transport, the airline industry is like the hay behind that.

'But as the union for maritime professionals, it's our duty to acknowledge the changes that are coming, and not to bury our heads in the sand in the hope it all goes away.

'We must recognise and prepare for the challenges. But there is hope, as [general secretary] Mark Dickinson said, we must prepare for the challenges but we must also maximise the possibilities. Automation, which is often seen as a scary development for jobs, can actually open our industry up with more shore side positions.'

Debating the motion, members agreed it was likely to be the most important motion to be discussed at conference.

Following a majority vote of members in support of the motion, the document has now become a resolution committing Nautilus to campaign for the following:
future-proofing skills and training
securing safety at sea
creating fair pay and conditions
The full text of the motion is available in the My Nautilus members' area of the Nautilus International website.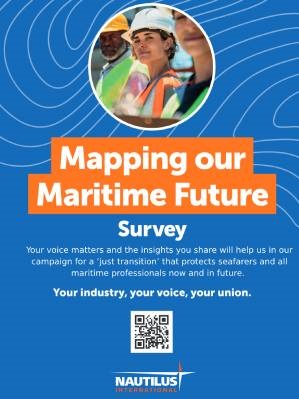 Mapping our Maritime Future survey
We need your views as we campaign for a Just Transition on future fuels and new technology. Take our Mapping our Maritime Future survey.
Take the survey
---
Tags