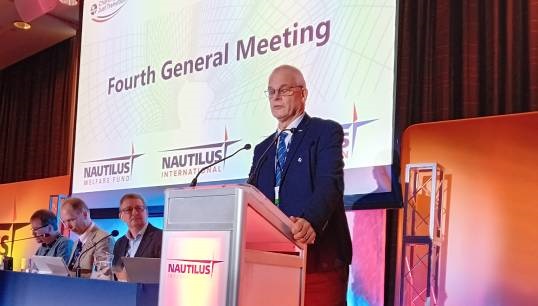 Members attending the Nautilus International General Meeting have voted for the Union to redouble its efforts to increase diversity in the maritime workforce.
The motion Creating a More Diverse and Inclusive Industry noted that women seafarers, LGBT+ seafarers, seafarers of colour, seafarers with disabilities and young seafarers are under-represented at sea and on the inland waterways. They also face particular challenges in the maritime workplace.
Proposing the motion, Nautilus member Henk Eijkenaar said that it is the duty of a trade union to make sure all workers are supported and protected. 'Diversity isn't just about representation,' he stressed. 'It's about safety and people fulfilling their potential.'
He noted that the gender pay gap still needs closing and that bullying and harassment at sea still need tackling. 'Every one of us deserves to be treated with dignity in the workplace.'
Seconding, Nautilus member Gary Calderwood added that in some respects the industry has a good record on LGBT+ rights, but not everyone feels able to divulge their sexuality. 'We must foster an atmosphere where everyone can have equal opportunities and be their authentic selves.'
Speaking in support of the motion, member Andrew Armstrong pointed out that ageism can be another form of discrimination experienced by seafarers, and not everyone feels confident to speak up for themselves.
Following a majority vote of members in support of the motion, the document has now become a resolution committing Nautilus to the following:
campaigning to increase the number of women working at sea by tackling issues facing women seafarers such as sexual harassment and ill-fitting PPE
campaigning to modernise labour relations and call for creative, sectoral solutions for a better work-life balance for all workers, especially in the phase of life of having young families
calling on Dutch and Swiss governments to follow the UK's lead in ratifying ILO Convention 190 (C190) on eliminating violence and harassment in the workplace
pushing for gender neutral language throughout all official documents from national governments to international bodies such as the IMO and ILO to assist the industry in ending the use of outdated terms such as 'seamen' or 'manning'
leading efforts to tackle racism, ensuring maritime professionals are not unfairly disadvantaged by virtue of their race or ethnicity
highlighting the importance of 'Pride' in maritime in giving visibility to LGBT+ seafarers and working with employers to create LGBT+ friendly workplaces
championing our members from under-represented groups, particularly through continued support and strengthening of Nautilus International's Equality and Diversity Forum
The full text of the motion is available in the My Nautilus members' area of the Nautilus International website.
---
Tags