Nautilus news
IOMSPCo dispute: Nautilus members vote in solidarity with those threatened by fire and rehire tactics
25 October 2023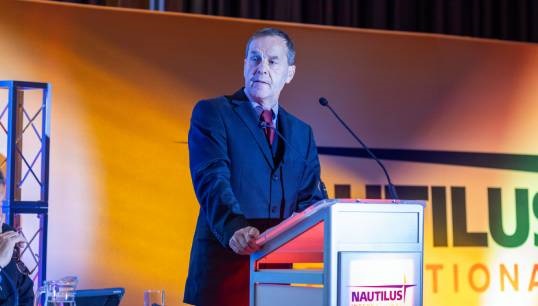 Nautilus members at the Union's General Meeting have voted unanimously to show their solidarity with seafarers working at the Isle of Man Steam Packet Company (IOMSPCo), which is currently in dispute with the Union after management threatening to use fire and rehire tactics.
An emergency motion condemning the practice of fire and rehire was presented to the GM by Nautilus head of organising Garry Elliott. It recognises the ongoing consequences of the tactic across the industry, and especially notes the recent fire and rehire threat made by IOMSPCo.
The dispute with the Isle of Man government-owned company began after management made clear that it would lay off and replace any workers who do not agree to new 'live onboard' requirements, which would see members lose 76 days per year with their families and loved ones.
It has emerged that crew are expected to live onboard because a new vessel purchased by the company is not fit for purpose.
'Whether you call it fire and rehire, dismissal or something else, it all adds to seafarers put out of employment through no fault of their own,' Mr Elliott told the meeting. 'It's important to send a message to the employer, that there is solidary for members working at the company.
'Tens of millions has been spent on this ship, so now they're trying to force people to live onboard. Some of these people have worked for the company for 20 or 30 years, and suddenly they're given a couple of months' notice that they can't live the way they have for decades. But beyond the specific issue, this dispute is about the fact that the company is willing to fire its employees and rehire them on worse terms.'
Seconding the motion, member Iain Mackenzie said: 'If this is allowed to happen, where does it stop? This is a huge step that will affect other companies owned by government, like CalMac (Caledonian MacBrayne). We have to stand up now for what we believe in.'
Following a unanimous vote of members in support of the motion, Nautilus will now:
work across all available avenues in support of members being impacted – at the Isle of Man Steam Packet Company and elsewhere – by pernicious fire and rehire tactics used by unscrupulous employers.
campaign for an end to fire and rehire practices, which undermine the principles of social dialogue and good industrial relations
The full text of the motion is made available in the My Nautilus members' area of the Nautilus International website.
---
Tags