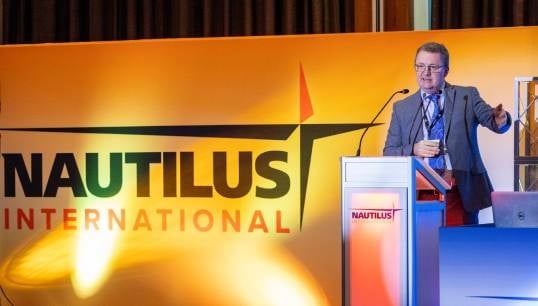 Nautilus International's general secretary Mark Dickinson welcomed members to the Union's 2023 General Meeting in Liverpool with the strong message that it 'must deliver for the needs of our members, ensuring they are full and active participants in the next industrial revolution.'
Mr Dickinson said the global Covid-19 pandemic highlighted what members had 'long understood: seafarers are critical to keeping the world moving.  It also shone a spotlight on how out of sight, out of mind' our people are; what we refer to as "sea-blindness".'  
The 'crew change crisis' – which at its peak impacted over 1 million seafarers, occurred as too many governments displayed 'staggering ignorance of the fundamental rights of seafarers', said Mr Dickinson.
'Some locked out their own nationals and prevented citizens from earning a living, and refusing others to return home.'
The crisis also underlined the 'most pernicious aspect of the 'flags of convenience' system, with its stunning inability to enforce flag state responsibilities to seafarers thereby disregarding the dignity and the rights of seafarers', he said.
There were many lessons to be learned from the pandemic, but crucially it also showed the world 'how our lives, though they may be lived thousands of miles apart, are totally interconnected' and that 'international co-operation and collaboration has never been more important', said Mr Dickinson.
 'That is important not only for this union as an international transboundary organisation, but also for the membership of the Nautilus Federation and our affiliations to the ITF, ETF and IFSMA are central to that.
'When we affiliate we get involved, we commit, and we make sure our voice – your voice is heard.
'As we move from one global challenge to another, our role as representatives of maritime professionals, to speak up for our members, will become even more critical.'
The urgent need to reduce reliance on fossil fuels and cut greenhouse gas emissions is primarily about fuels and technologies, said Mr Dickinson.
'While the move to new energy sources and new technologies is clearly key to the transition, our members cannot be left behind. The transition cannot be an excuse to continue social dumping, cutting jobs, pay and reducing conditions. The transition cannot be the preserve of governments and corporations seeking to maximise profit at the expense of seafarers.'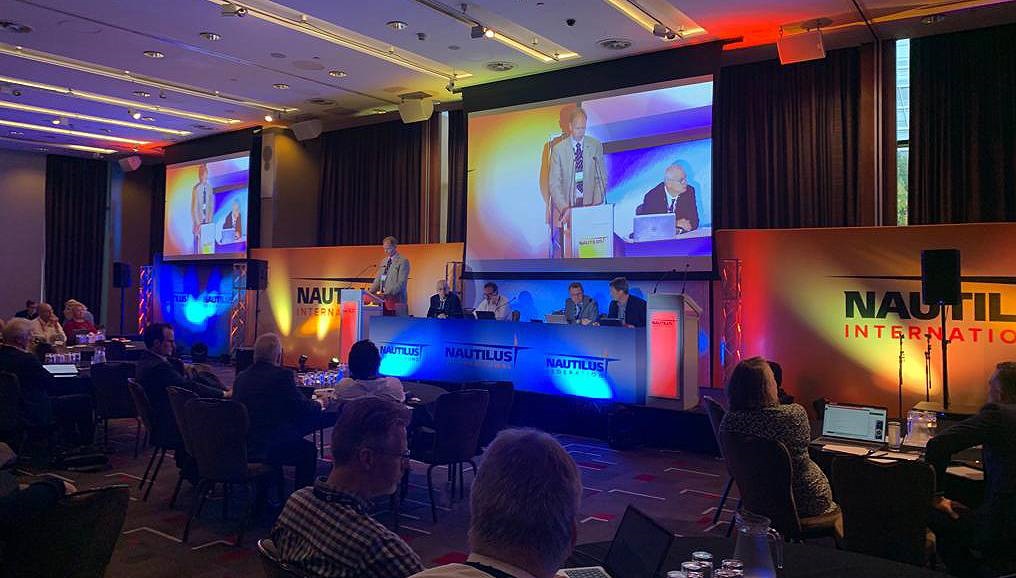 GM23 discussed three key themes that the Union believes is central to ensuring a transition that is just and equitable.
These are:
future-proofing skills and training
securing safety at sea
supporting jobs, pay and conditions
Nautilus Council chair Wilco Van Hoboken declared the meeting open.
'We are a proud international Union as evidenced by our presence here today – the first as one union since the pandemic,' said Mr Van Hoboken.
'We must use this general meeting as an opportunity to reflect on the lessons of the last four years. As we come together at a time of yet more global uncertaintly, and climate change it is to debate priorities and navigate together for the future.'
The hybrid meeting held face to face in Liverpool and online, was the Union's fourth General Meeting and welcomed members from both the UK, Netherlands and Switzerland branches.
It also extended a special welcome to members from the Nautilus Federation who had travelled from as far afield as Australia, Croatia, Finland, France, Hong Kong, Norway, Singapore, Sweden and the United States of America.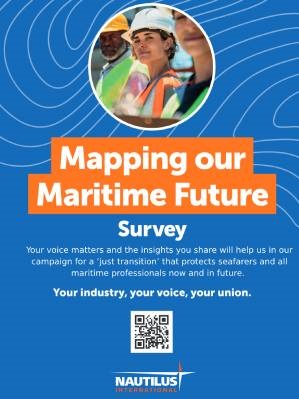 Mapping our Maritime Future survey
We need your views as we campaign for a Just Transition on future fuels and new technology. Take our Mapping our Maritime Future survey.
Take the survey
---
Tags