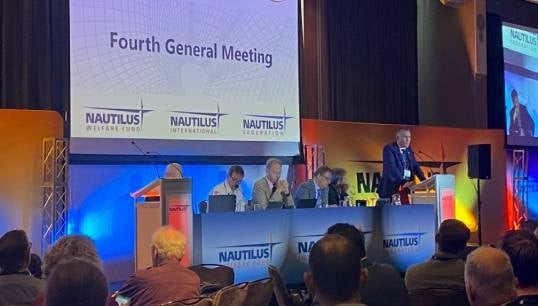 Nautilus has committed to work with stakeholders to ensure government funding is effectively used to achieve the best outcome for all cadets, including fair and equal financial support during their training.
The motion Review of One Union support for Cadets highlighted that a supporting link between cadets and the Union should be established via college and class lay-reps, allowing the union to provide essential knowledge and support throughout their training.
Proposing the motion, Nautilus member Fraser Matthew commented that for many cadets, 'there is no job' and 'there is no industry'.
'Why should there not be a standard level playing field for all cadets on fair pay and with equal opportunities?,' he said.
Seconding, Nautilus member Captain Jessica Tyson added: 'The sea is a very unifying place. We're all equal at sea. So, we need to give them the equal opportunity to have that future and the experiences that we've all had'.
Nautilus head of professional and technical, David Appleton, commented on the lack of quality training and sea time provided by companies for cadets. 'It is government policy to implement this, but we are pushing very hard to ensure that those fundamental changes will actually change the system'.
Following a unanimous vote of members in support of the motion, the document has now become a resolution committing Nautilus to ensure that on-board training is suitably provided for cadets by sponsoring companies, and that it is effective in its delivery. Cadets should know they always have the support of the Union.
The full text of the motion is available in the My Nautilus members' area of the Nautilus International website.
---
Tags