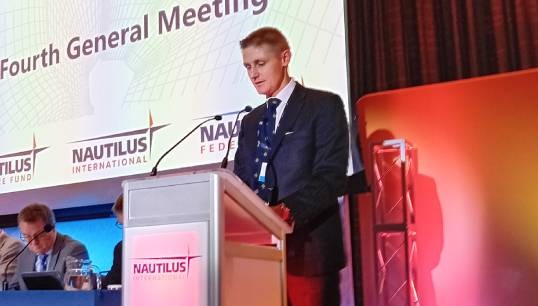 Nautilus has today committed to doing all it can to make the maritime workplace more welcoming to neurodiverse seafarers, following a vote of members at the Union's General Meeting in Liverpool.
The motion Support for Neurodivergent Seafarers noted the positives that neurodivergent crew members can bring to a vessel, including excellence in innovation and safety management.
However, neurodivergent seafarers can be more susceptible to harm, discrimination and professional disadvantage.
Proposing the motion, Nautilus member James Stockbridge said that 15% of the general population are thought to be neurodiverse – spanning conditions such as dyslexia, ADHD and autism. 'There are lots of us at sea,' he remarked, and some research indicates that seafarers have an above average incidence of neurodiversity. Unfortunately, seafarers are often afraid to disclose their condition because of fear of discrimination, and they miss out on support which could help them fulfil their potential.
Seconding, Nautilus member George Belcher said that he had enjoyed working at sea despite having had little support with his Asperger's Syndrome, but he would like to see a change in the industry.
Debating the motion, member Glyn Garland said that today's discussion had enabled him to put a name to behavioural traits he had observed in many valued colleagues, and he encouraged fellow members to vote in favour of the motion.
Following a majority vote in support of the motion, the document has now become a resolution committing Nautilus to develop and secure:
explicit and effective company level commitments to the promotion of neurodiverse maritime workplaces and to management best practices
better levels of management education with regards to neurodiversity
better availability of diagnosis for neurodivergent conditions
better availability of reasonable adjustments in the workplace
further research into neurodivergent seafarers
corporate compliance with obligations under equality and disability related national and international legislation
international cooperation with the objective of securing code and convention-level recognition for, and protection of, neurodivergent seafarers
The full text of the motion is available in the My Nautilus members' area of the Nautilus International website.
---
Tags