Nautilus news
Union pledges action on future-proofing skills and training for seafarers
24 October 2023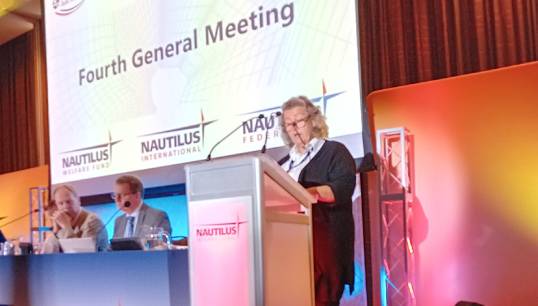 Nautilus has agreed to redoubling its efforts to address training needs for the future of the maritime industry in meeting decarbonisation targets, following a vote of members at the Union's General Meeting in Liverpool.

The motion Future-proofing skills and training drew attention in particular to research commissioned by the Maritime Just Transition Taskforce, conducted by DNV, which highlighted the need to train more seafarers to meet decarbonisation targets. It predicts up to 750,000 seafarers will require additional training by 2050.

The new maritime skills strategy produced by the pan-European SkillSea project was also welcomed. That calls for adapted curriculums at maritime colleges to ensure digital, green, and soft management skills for a changing industry. Members agreed to support the Taskforce's call for a global consensus on alternative fuels and for it to be determined as soon as possible to provide clarity on future training needs.
Proposing the motion, Nautilus Council member Dawn Franklyn commented: 'Whether in the UK, Netherlands or Switzerland, we must recognise that investment in the young people entering our profession is absolutely vital. We should encourage young people to consider a career in maritime, this is how we can grow our industry and meet the needs of the future.

'We must also ensure there is support for cadets financially so they can remain in their training, but we must also ensure they receive the best possible training.'
Ms Franklyn noted that a Nautilus survey found that some cadets felt so crushed by the cost of living, that nearly a third of cadets had considered dropping out, many due to financial strains.
'Cadetships should be accessible to all and they should receive fair funding.'
Central to ensuring a training regime fit for the future is the International Convention on Standards of Training, Certification and Watchkeeping for Seafarers (STCW), 'the foundation of everything we do as maritime professionals', acknowledged Ms Franklyn.
'Our industry is changing and technology is changing at such a pace that the STCW must be amended to keep pace with developments. It's great that Nautilus will continue to play an active role in the ongoing review. We must have a more robust regulatory training framework as the industry comes through this transition.'
Addressing the training needs for the future of the maritime industry needed to remain a top priority to ensure a just transition that puts people at the centre of change, said Ms Fanklyn.
The motion was seconded by Nautilus Council member Sieto de Vries.
Debating the motion, member Andrew Armstrong who recently retired as a maritime lecturer agreed 'cadets are our future'. He said this could mean cadets of any age, noting he once taught a 60 year old cadet. 'A lot of cadets can be in second and third careers, and their experience with different companies is very varied.'
Mr Armstrong encouraged all cadets to get involved with Nautilus as they never knew when they might need the Union's help.
Another retired member Willie Mackay commented: 'It's also important that we try and get support for those who have been employed a few years at least, especially if they get to the stage of gaining a certificate. Companies should undertake to give them at least some watchkeeping experience as a junior officer.'
Following a unanimous vote of members in support of the motion, the document has now become a resolution committing Nautilus to campaign for the following:

•continuing to work with international partners for a just transition to net-zero in the interests of maritime professionals
•playing a full and active role in the ongoing review of STCW
•pressing for a swifter amendments procedure to be agreed in the STCW
•working to ensure maritime professionals can access training, at no cost to the individual
•lobbying to ensure cadetships are fully accessible with fair compensation for sea time
•continue supporting efforts to encourage more young people into careers at sea and increase diversity in the maritime industry
•continued efforts to address 'sea-blindness'
•ensure national governments invest in maritime training particularly in emerging sectors and other sectors where there are skill gaps
The full text of the motion is available in the My Nautilus members' area of the Nautilus International website.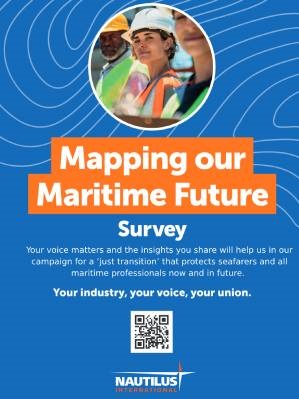 Mapping our Maritime Future survey
We need your views as we campaign for a Just Transition on future fuels and new technology. Take our Mapping our Maritime Future survey.
Take the survey
---
Tags