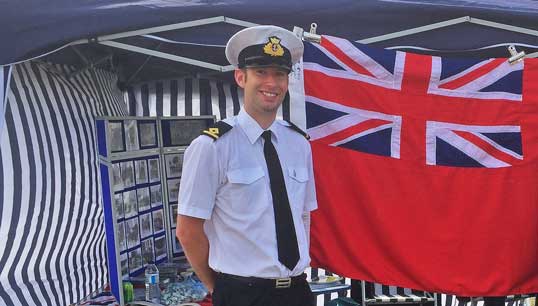 Seeing wild sloths and monkeys in Costa Rica to watching the Aurora Borealis and killer whales in the Shetland Islands are career highlights for Third Officer Ross Cleland
What is a typical day in your job?
A typical day onboard for me would usually consist of two bridge watches, passenger engagement events, lifesaving appliances checks and finally a little bit of a walk ashore to explore some of the fantastic destinations that my ship visits.
Why did you choose a career at sea?
I was fortunate enough to have been taken on a few cruises by my parents whilst I was growing up, I remember looking at the deck officers and thinking 'that looks like a cool job'. This, alongside living and growing up in Barry (Barrybados), South Wales, which is located on the Bristol Channel. I spent many years growing up dinghy sailing on the Bristol Channel which gave me that desire to work at sea.
Tell us some of your career highlights – and challenges – so far
There's many highlights so far from seeing wild sloths and monkeys in Costa Rica to watching the Aurora Borealis and killer whales in the Shetland Islands.
The biggest highlight and challenge for me though would have to be working in the Aegean sea on the Hellenic / Turkish Border, I was dealing with the migrant crisis that Europe has faced over the last few years and was on the frontline rescuing migrants from the perilous Aegean crossing. It was a challenging task because of language difficulty and seeing the poor state of health that the migrants were in, equally it's a very politically sensitive task but regardless it was truly humbling on a humanitarian level to have helped so many people.
What are the best things about your job?
The best thing about my job is having the privilege to work within a fantastic team which has helped me develop personally and professionally.
Would you recommend seafaring as a career?
Based on my personal experiences I would definitely recommend seafaring as a career. The places I've been, the people I've met and the experiences I've had would certainly make me recommend seafaring as a career.
Tell us one thing that people may not know about your job?
Continuous professional development plays a really important role in my current job and as a result I'm sent to the company training centre in Amsterdam on a yearly basis to keep my skills and knowledge current.
Become a Nautilus Champion
Nautilus is looking for members who can volunteer their time for the Union's campaigns, media outreach and recruitment initiatives. You can help breathe life into these programmes, bring a more diverse and representative voice to the Union, and ultimately help us create greater awareness of the maritime industry among the public.
Register your interest
Meet more Champions
---
Tags