Members at work
Cruiseship deck cadet Gareth Hampton recalls the thrill of taking the wheel for the first time
20 July 2020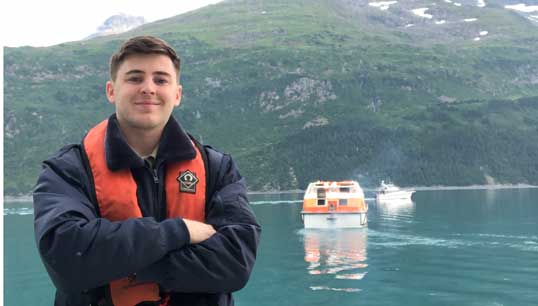 Northern Ireland deck cadet Gareth Hampton has learnt early the seafarers' pang of missing family milestones, but discovering the world and all its cultural diversity is its own reward
What is a typical day in your job?
A deck cadet's typical day depends on what phase of our cadetship we are at: either at sea learning the duties of Officer of the Watch, or at college receiving a wealth of knowledge from experienced seafarers.
At sea we work diligently to complete our Training Record Book, college work-based learning and understudying the Officer of the Watch in anticipation of when our day comes.
In college, studying and sitting exams takes centre stage in order to pass out with our relevant Certificate of Competence as well as, of course, enjoying some elements of the student life.When I can, I squeeze in some sailing and badminton.
I also hold an elected role in our Students' Union and spend time ensuring views of cadets are put across to our university. At the moment, this involves
dealing with a lot of concerns about sea time, which has become a problem in the pandemic.
We've been discussing things like whether we should be allowed to complete our college time in one go and then do the sea phases when things get
better, and whether simulators should be used for some of the sea time. We're glad that extensions have been made to SMarT funding to take account of the pandemic.
Why did you choose a career at sea?
Coming from the mostly land locked County of Armagh in Northern Ireland, a career at sea does not suit the local narrative, but I have always enjoyed dinghy sailing, and as a teenager I worked for several summer schools as a yacht mate and completed the Tall Ships Races in 2015 and 2017.
The camaraderie atmosphere of life at sea and the selfless nature between people is what I longed to invest in myself. This was the reason for returning year on year to various sail training programs and eventually turning it into a career which I am now actively pursuing through my cadetship with Princess Cruises.
Tell us some of your career highlights so far – and challenges.
My highlights would have to include taking the wheel of the Coral Princess for the first time and having the opportunity to assist the bridge team to carry out their duties.
Sunsets are also even more spectacular at sea – highly recommended if you've never experienced it – the Northern Lights are next on my list!
Challenges are the long duration away from your support networks and missing friends and families' life milestones.
What are the best things about your job?
Discovering the world and immersing myself in new cultures and traditions both on and off the ship is so rewarding; and matched with meeting people from every corner of the globe is amazing!
Cruise ship life has its perks for sure with crew parties.
Would you recommend seafaring as a career?
Without a doubt! A way to see the world, meet some amazing people and get paid while doing so.
Tell us one thing that people may not know about your job?
Even as a cadet in university you get paid for studying and passing exams.
Become a Nautilus Champion
Nautilus is looking for members who can volunteer their time for the Union's campaigns, media outreach and recruitment initiatives. You can help breathe life into these programmes, bring a more diverse and representative voice to the Union, and ultimately help us create greater awareness of the maritime industry among the public.
Register your interest
Meet more Champions
---
Tags