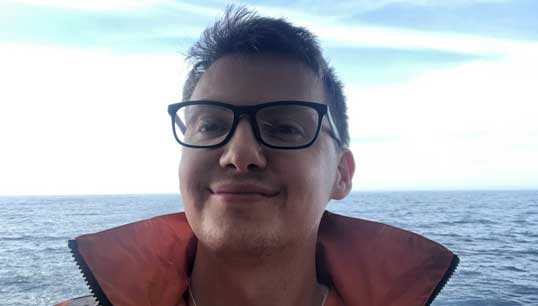 Nautilus Champion and cadet David Pirie has the sea in his blood, with both his grandparents working at sea. So, when a cadetship came up, he jumped at the chance
What is a typical day in your job?
Right now, shadowing the Officer of the Watch (OOW) and preparing for my Oral exams.
During coastal voyages I'm working with the Third Officer preparing documents for port/pilotage and assisting with manoeuvring. During Sea voyages I work half of the Third Officer's watch and if they have no maintenance with firefighting equipment (FFE) or lifesaving equipment (LSA), I shadow the Second Officer with his duties, correcting charts and passage planning. During my spare time I make time for some studying.
Why did you choose a career at sea?
I wanted to do something different; see the world. The old clichés. But also both my grandparents worked at sea, before, during and after the wars, so I guess it's in my blood!
Being from Glasgow it's impossible to escape the proud history of ship building, it shaped the city. And being from an island nation I know just how vital the trade is for, not only my country, but the world! So, when a cadetship came up I jumped at the chance!
Tell us some of your career highlights – and challenges – so far
Being a cadet, the highlights must be all the 'firsts' I have been lucky to strike off my bucket list, doing things others might never do, for example:
crossing the equator
passing the Suez and Panama Canals
passing the Date Line
But also, being a cadet all these firsts is a big challenge in itself. I like to think every day I'm challenging myself to learn as much as possible to prepare for the next step of my career.
How can seafarers be made to feel welcome and retained in a career at sea?
Education – simply education. In my opinion, recruiting and retraining any individual, male or female, who shows enthusiasm and attitude, works hard and with professionalism should and will be treated with the respect that they deserve and expect to receive. It shouldn't matter if it's a male or female – that person will feel welcomed and look to remain in the career.
What are the best things about your job?
The people I've had the pleasure of meeting and working with, a good crew, makes life aboard really enjoyable. Also, I love the night sky, and being able to calculate positions and errors of compasses via the stars is a pretty cool feeling (I know, I'm sad!).
Would you recommend seafaring as a career?
Yes, but it depends on the person. If you have the right attitude and mental strength to be away from loved ones for a period of time it can be a very fulfilling career.
Tell us one thing that people may not know about your job?
Just how important sea trade is. People may not appreciate just how much of the world's economy relies on shipping.
Become a Nautilus Champion
Nautilus is looking for members who can volunteer their time for the Union's campaigns, media outreach and recruitment initiatives. You can help breathe life into these programmes, bring a more diverse and representative voice to the Union, and ultimately help us create greater awareness of the maritime industry among the public.
Register your interest
Meet more Champions
---
Tags