Members at work
Cruise ship Safety Officer Martel Fursdon juggles a busy schedule of port calls
14 May 2020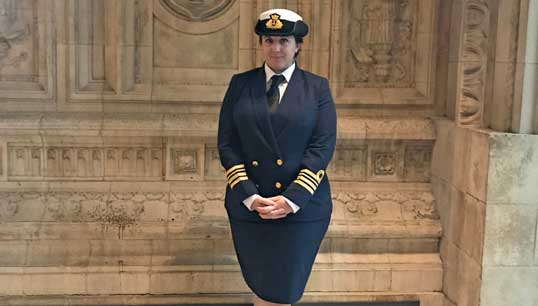 Most mornings Safety Officer Martel Fursdon can be found putting the crew through their firefighting and lifesaving drills before hitting the computer for long term planning
What is a typical day in your job?

A typical day for me starts with planning the work for my team, including preparing all the work permits they may need. As the Safety Officer, I have a decent sized team reporting to me, consisting of the locksmith, a machinist, four crew who look after the lifesaving appliances, two who help look after the fire-fighting equipment, three cadets and two third officers.
There is a lot of admin involved so I generally try to spend some of the morning seeing to that, together with making a round through the ship to see how the team are getting on with their various tasks. Generally, we will have a meeting on the bridge to review the upcoming port arrival and if I am going to be the Navigator for the evolution, then I will spend a few minutes with the Captain discussing my plan for the manoeuvre before presenting it to the bridge team.
Most mornings there will be training or a drill to assist or participate in too. I can't sugar coat it, I do have to spend a fair amount of time behind the computer dealing with things like near miss reporting, safety round supervision, ordering spares, requesting services, planning upcoming work and trying to make it work with the time and ports we have, and many other things.
Invariably the phone rings a lot with request to have a look at something that needs some attention! We have a lot of ports on our normal runs, so that means mooring stations and disembarking pilots, if I am not on the bridge.
Why did you choose a career at sea?
I wasn't really overjoyed with the idea of going to university, and I was working on a small ferry running between the North Devon coast and Lundy Island at the time. I really enjoyed my work on there – every day was different regardless of sailing between the same three ports, and that really struck a chord with me. the variety of work that can come up in the course of the day kept things interesting, and still does now, over 20 years later. I didn't really know much about seafaring careers when the Captain on the ferry suggested it, but I didn't really look back.
Tell us some of your career highlights – and challenges – so far
One of my biggest highlights was two years ago when I was asked to represent the Merchant Navy at the Festival of Remembrance in the Royal Albert Hall. Such an incredible experience and one I will never forget. Humbling, emotional, and truly touching – so very honoured to have been included. The picture is from the event (the photo that was featured in the Telegraph at the time was one I'd taken!).
Challenges? Where do I start? Apart from the obvious challenges of being a cadet on dredgers in the North Sea, and working in a male-dominated industry, my more recent challenge has been coming away to work and leaving my two beautiful daughters at home. Trying to establish routine communications with them, writing postcards (which they love receiving) and doing my best not to dwell on their absence, can prove testing at times.
What are the best things about your job?
One of my absolute favourite things about this job has always been watching the sunrises, and sunsets – I think this goes for a lot of seafarers as well. The variety and changes in my working day prevent things becoming mundane. And the people – through the highs and lows – you are rarely on your own on a cruise ship and that makes for some wonderful teams!
Would you recommend seafaring as a career?
Absolutely yes. It's been hard and I have wanted to quit countless times, but I haven't, and I still wouldn't swap it for much.
Tell us one thing that people may not know about your job?
As the Safety Officer, I'm not a watch keeper anymore! I do miss it and can often be found on the bridge in the evening, but I stand a few watches a month for proficiency and help covering watches as needed.
Become a Nautilus Champion
Nautilus is looking for members who can volunteer their time for the Union's campaigns, media outreach and recruitment initiatives. You can help breathe life into these programmes, bring a more diverse and representative voice to the Union, and ultimately help us create greater awareness of the maritime industry among the public.
Register your interest
Meet more Champions
---
Tags