Members at work
Officer of the Watch Dawn Franklyn hopes to see more action on improving seafarers' mental health
16 May 2022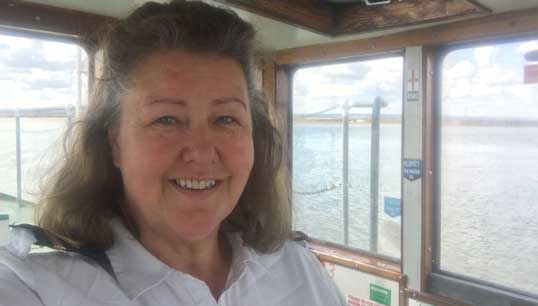 Nautilus Champion Dawn Franklyn has recently been undertaking freelance skippering work for small commercial vessels. After working offshore she worked as a harbour operator, coxswain for the transfer of pilots and linesman from the UK Port of Sheerness, and as a wellbeing mentor for young people onboard large sailing vessels.
After moving to the work boats sector, she took a break to complete studies in maritime environmental management. Now enrolled in a mentoring programme with the Marine Society, Dawn aims to move ashore to a role involving her studies and interests, including the improvement and actions supporting seafarers' mental health.
Do you have any personal or family connections to the sea or inland waterways?
I have plenty of sea connections! My father was a chief petty officer in the Royal Navy and came from the Shrubsall family of barge builders in the Medway. His parents ran the chandlers in historic Blue Town serving the port of Sheerness. My mother was a Royal Navy radio officer, my brother was also in the RN, and my sister worked on cruise liners.
What did you do in your career before joining the maritime sector?
I worked in and ran an upholstery business with a workshop and retail outlet for 15 years. I also volunteered mentoring, supporting and leading young people at sea.
What does your current job involve?
I am currently freelance skippering on X-Pilot, a former Port of London Authority (PLA) pilot vessel and other historic vessels.
As well as an Officer of the Watch (OOW) Unlimited certificate, I also have a Master 200Gt Certificate of Competency (CoC) which I am enjoying putting to good use as deputy master on the classic 72-tonne charter vessel X-Pilot on the Medway and Thames Estuary, which was built in 1967 and used to work from Gravesend.
The vessel is hired by photographers, historians and tourists to hear the history and explore the Estuaries' forts including the explosive-filled sunken WWII shipwreck SS Richard Montgomery embedded in the mouth of the River Thames. Lots of people want to see the masts before they are scheduled to be removed to prevent them collapsing into the holds.
I enjoy the huge history involving a busy sailing trade of vessels in the Thames Estuary with its deep channels, sandbanks and tidal waters.
I also do relief skippering on a traditional Lowestoft fishing smack the Excelsior which is managed by the Excelsior Trust. She is a living example of the vessels that drove the bustling trade that once existed on the East Coast.
Tell us some of your career highlights so far – and career challenges
The main career highlight to date must be my academic achievement, OOW Deck Unlimited CoC, with the full support and encouragement of the welfare officer at the Marine Society.
A big challenge is trying to turn the tide on old work cultures that continue to affect mental health and wellbeing throughout the maritime industry. There are a lot of well-meaning words out there, but we need to see policies put into action.
Enrolling on the mentoring programme with Marine Society is helping me strengthen my confidence to change my direction, and see what possibilities are out there ashore.
I am very keen to find a maritime job ashore that encompasses the knowledge of the academic side of the maritime studies I have obtained, such as legal and environmental studies, along with my interest in tackling sea blindness and mental health issues using my lived experiences at sea.
How long have you been a member of Nautilus, and why is the Union important to you?
I have been a member of Nautilus since 2016, after being advised to join while working on an MOD crew training vessel.
I have attended union conferences and forums in London and Rotterdam on various occasions, contributing to motions and speaking on mental health and women's issues.
The support a union can provide is very important to me. My brother suffered a severe mental breakdown and has been medicated for 40 years 'post-Navy'. I have also lost two dear seafaring friends to suicide and stood by two bodies whilst at sea before intervention by coastal services.
Drug and alcohol 'self-medication' should be a thing of the past, but without support, individuals are still sailing dangerously close to the wind. I would encourage everyone to join the Union because it means there's someone to help if they feel overwhelmed or powerless – it is another tool in the box if a crisis arises.
What is your favourite place you have visited during your career?
Pre-pandemic I would say my exchange with an Indian seafaring family was the most extraordinary thing I have done. My exchange student learnt engineless sailing around the Thames Estuary after five years deepsea, and I went to India to learn more about the culture and religion, joining a Hindu pilgrimage to Uttar Pradesh. I learnt so much.
Post-pandemic: home is now my favourite place!
What do you like to do in your free time?
I love playing Scrabble. It makes me laugh when l think of a really good word with lots of points, and it's on a triple! I am enjoying helping plan with my family and friends to create a vegetable garden. Helping my brother to enjoy and contribute whilst we are in the cost of living crisis and it also brings varied company and support to him.
What's your favourite podcast?
Joe Rogan is my favourite podcaster – such a variety and wealth of interest.
What is your favourite film?
My favourite film is 'As Good As It Gets' with Jack Nicholson... You've just got to watch it if you haven't already. So many truths, but always hope.
Become a Nautilus Champion
Nautilus is looking for members who can volunteer their time for the Union's campaigns, media outreach and recruitment initiatives. You can help breathe life into these programmes, bring a more diverse and representative voice to the Union, and ultimately help us create greater awareness of the maritime industry among the public.
Register your interest
Meet more Champions
---
Tags