Members at work
Yacht deck officer James Sherwood enjoys speaking the 'global language' of the sea
17 July 2020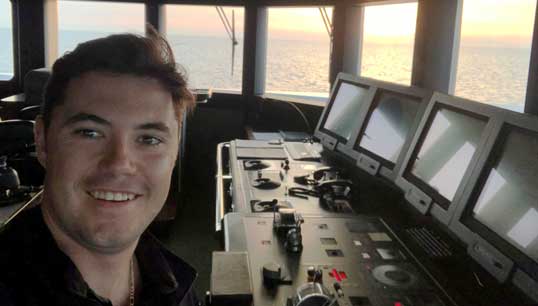 Superyacht crew have the challenge of working to an extreme range of finely tuned details every day, from ship operations to passenger food and song preferences in the tender, and deck officer James Sherwood is no exception
What is a typical day in your job?
Each day depends on what we are doing, depending on whether we are underway, in port, have guests onboard, or are in the shipyard.
Generally speaking, a day starts with the morning meeting of the deck department, where the bosun has the plan for the day.
After the deck meeting, the chief officer and I will discuss our days' work in the ship's office and plan the vessels operation as per master's request.
We will look at the deck maintenance and any work which need to be outsourced, because the yacht needs to be in pristine condition, and sourcing contractors can be difficult.
We then move on to planning for the next guest embarkation, making sure all crew are up to date with guest operations. The service provided by the yacht is extremally personalised – thus vessel and crew preparedness is extremally important.
We will then move on to daily Safety Management System (SMS) tasks, planned maintenance, drill planning and logistic planning.
Why did you choose a career at sea?
There are many reasons for choosing this career but there is nothing quite like being at sea, that keeps the passion going. Some other factors include:
the fast pace, ever changing
no day is the same
it's challenging but satisfying
Tell us some of your career highlights so far – and challenges
It would have to be achieving my first Certificate of Competency (COC) Officer of the Watch (OOW).
A lot of work and time had gone into it and after sitting through the oral exam and being told I had passed was a great feeling.
There have been many challenges, but I think the biggest challenge for me was adjusting to different cultures learning the 'global language' if there were a way to put it.
What are the best things about your job?
I enjoy having the responsibility of being a deck officer, it come with a lot of very important roles; one of which is passing on knowledge and experiences. This is extremely important as there is only so much a textbook can teach.
Would you recommend seafaring as a career?
Yes I would.
Tell us one thing that people may not know about your job?
In the yachting industry we pride ourselves on extremely high service delivery, so much so, that every guest I've been able to work for has had a 'preference sheet' dedicated to them. This includes how many sugars they like in their coffee to having their favourite song playing in the tender on the way back to the yacht.
Become a Nautilus Champion
Nautilus is looking for members who can volunteer their time for the Union's campaigns, media outreach and recruitment initiatives. You can help breathe life into these programmes, bring a more diverse and representative voice to the Union, and ultimately help us create greater awareness of the maritime industry among the public.
Register your interest
Meet more Champions
---
Tags