Members at work
Cadet Ella Mackinem has never had a dull moment from the minute her educational compass was reset towards a career at sea
24 July 2020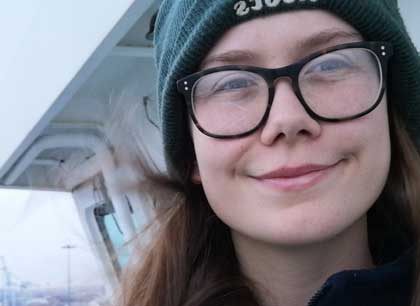 Ella has a family history in the Royal Navy, but it took a chance open day university visit to research a math degree before she was pointed in a new direction for a career at sea
What is a typical day in your job?
As a cadet my typical day changed daily from navigational watches on the bridge to loading and securing cargo in the hold. Near the end of my cadetship I was making important collision avoidance decisions, maintaining the logbooks, GMDSS logs and chart positions. I undertook various maintenance tasks on the Firefighting Appliance and Lifesaving Appliance equipment as well as weekly/monthly checks on equipment and chart corrections.
Why did you choose a career at sea?
At 16, like most others, I had no idea what I wanted to do. I just knew I did not want an average nine to five desk job. So, I went to an University open day looking to do a Maths degree, until a member of the open day staff questioned my hobbies and interests and literally pointed me in the direction of a career at sea.
Once I discovered what I could do, I was hooked. I was so excited; I have always had a great sense of adventure and this suited that perfectly.
Growing up kayaking on the ocean and swimming in waters all over the world, led to a great understanding of how the ocean has a mind of its own and that it should always be respected. With a family history in the Royal Navy, I thought I'd take the new path of the Merchant Navy, and so far, I can't imagine myself doing anything else.
Tell us some of your career highlights so far – and challenges
One highlight of my cadetship would definitely be driving the ship through pilotage, bringing it alongside in Las Palmas Port, and berthing it successfully under the watch of the captain and pilot. It showed me that I could really do this, and I am so grateful for that opportunity.
Another highlight must be the pods of dolphins in the Atlantic Ocean, the occasional whales coming to surface and the turtles bobbing on the surface during calm days.
A challenge for me is definitely seasickness. I was ill a lot but did not let it stop me. I tried everything to subdue it, and in the end found that eating crackers on shift while looking out to the horizon is my cure. I was very pleased with myself and shocked the other officers when I made it through the Bay of Biscay in light ship conditions in a Force 8 storm and wasn't sick. A captain told me on my very first contract that 'There are two types of seafarers, the ones who are seasick, and the ones that lie,' making me realise I'm not alone in this struggle.
What are the best things about your job?
The experiences, the people I have met, the places I have explored during shore leave and the sunsets and sunrises over the water. The hours may be long, and the work may be hard, but watching as the sun rises or sets over the ocean definitely makes it worth it.
Would you recommend seafaring as a career?
Yes definitely. I strongly believe that there should be more young people exploring this career path, especially females. It is a career like no other and, yes it has its challenges, but it is incredibly rewarding.
Tell us one thing that people may not know about your job?
From social media posts and other stories, it may seem that working at sea as a deck officer is all about being on the bridge, looking at the sunsets and taking pictures of dolphins and wonderful places travelled. But it isn't just that. It is tiring work, it is dirty work, it is working 12 hours a day every day of your contract. It is going into tanks and getting muddy. It is not as glamourous as some may think. But it is also working with people from other nationalities, learning their language and eating their food, learning new cultures and experiencing holidays like Easter in a different way. It is incredibly interesting and different every single day and there are always new things to learn.
Become a Nautilus Champion
Nautilus is looking for members who can volunteer their time for the Union's campaigns, media outreach and recruitment initiatives. You can help breathe life into these programmes, bring a more diverse and representative voice to the Union, and ultimately help us create greater awareness of the maritime industry among the public.
Register your interest
Meet more Champions
---
Tags