Members at work
Chief engineer Tenyon Latter says there is a vessel out there for everyone interested in maritime engineering
22 July 2020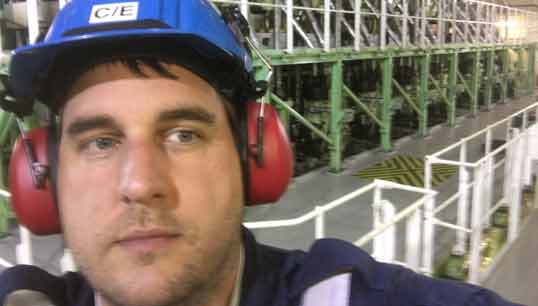 Rising through the ranks from engine cadet to chief engineer has been a satisfying career for mechanically minded Tenyon Latter, and one he would never contemplate changing
What is a typical day in your job?
My day starts at 07:00 hrs with email checks and by 08:00 hrs I go to the engine control room for the morning meeting.
Jobs are handed out by the second engineer and after that meeting the second engineer and myself have a short meeting to discuss any further job planning or bigger jobs which require immobilisation in port.
I do a check on the main plant (main engine) to check all is working well and carry out any adjustments as need to ensure a good operation.
I then go for a walk around the vessel, checking all the equipment for correct operation and chat with any vessel personnel that I encounter along the way to see how everything is going, and if they are experiencing any problems.
Every day at 10:00 hrs we must carry out our daily reporting to the company on the amounts of fuel, electric power, and so on, which is all computer based.
After a half hour morning coffee break at 10:00 hrs, email replies are sent with any information collected as required, depending on plant status or information. Afternoons are spent doing some jobs in the engine room or other places on the vessel as required. This can be assisting other members of the team with their work or giving advice as required depending on what is happening.
After the half hour afternoon break at 15:00 hrs, end of the day emails are done, as well as any other administration work, such as ordering of spare parts or stores.
The working day finishes at 17:30 hrs.
Why did you choose a career at sea?
My father was a captain on a supply vessel and it always intrigued me – as child taken on visits to the vessel - to see what was happening in the engine room.
I also did motorbike engine overhauls with my brother and the whole mechanical side of taking something apart which didn't work correctly, and putting it together so it worked better than before, also got me hooked [on engineering].
Tell us some of your career highlights so far – and challenges
I have been fortunate to be involved with two new building projects for container vessels. The first time I was a second engineer on the Maersk Londrina and then as chief engineer on the Maersk Hanoi. Both were great experiences, but also hard work getting the vessel from a new build yard into operational service, and to load and carry cargo.
One of the biggest challenges I have faced was when I was third engineer and loaded what turned out to be a bad batch of fuel which caused all the liners but two in the main engine to be scuffed. Changing a liner at every port possible, and overhauling the piston between the ports for the next unit to be done, was very challenging and tiring.
What are the best things about your job?
When you find equipment on the vessel is not working correctly and you make it work again, or even better than it was before is very satisfying. Or when joining a vessel, if there has been a problem that has been niggling away, and you manage to find the problem and fix it.
One of the great things now for me being a chief engineer, is having cadets on board. Passing my knowledge and experience onto them as well at the rest of the team and seeing them come back years later as an experienced officers and sailing with them again at second engineer or even back to back pairing on the vessel.
Would you recommend seafaring as a career?
Yes. I started my career at 16 as an engine cadet and wouldn't change for another job. There are plenty of different vessel types to work on. You just have to find the right one for you, and then you will find all the enjoyment and satisfaction of working there.
Tell us one thing that people may not know about your job?
We make our own fresh water from the sea water surrounding the vessel.
Become a Nautilus Champion
Nautilus is looking for members who can volunteer their time for the Union's campaigns, media outreach and recruitment initiatives. You can help breathe life into these programmes, bring a more diverse and representative voice to the Union, and ultimately help us create greater awareness of the maritime industry among the public.
Register your interest
Meet more Champions
---
Tags