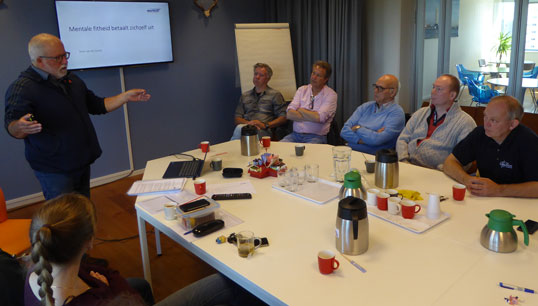 Prior to the pandemic, Nautilus NL teamed up with Toon Van de Sande of Spiritension, a maritime safety and security consultancy based in Dordrecht which focuses on humanitarian issues.
Mr Van de Sande organised several workshops which gave seafarers a general introduction to mental health.
'The general line was if you pay attention to mental health then every partner in the maritime world benefits,' he says.'The workshops were organised for the members.
'We had good attendance from inland shipping and seagoing members and good contributions to the discussions.'
He explains that in the Netherlands, as in the UK, mental health has been moving up the maritime agenda – especially as a result of the pandemic.
'We were quite early in paying attention to mental health. Now suddenly everyone is talking about it, which was not the case 10 years ago. Covid has shown that it is a worldwide problem.
'Unfortunately there are some substandard shipowners that don't give it the attention it deserves. The good shipping companies fully agree with Nautilus and the unions that mental health is very important. I see many companies doing their utmost to improve mental health aboard.'
The pandemic has certainly raised awareness about mental health at sea, but restrictions also caused the workshops to be paused. It is hoped that they will be able to resume soon, with scope to cover the topic in more depth.
'We would like to focus on what the seafarers can do to contribute to welfare onboard, but also what the company can do – we want to empower seafarers to make their case and explain what they need.'
---
Tags