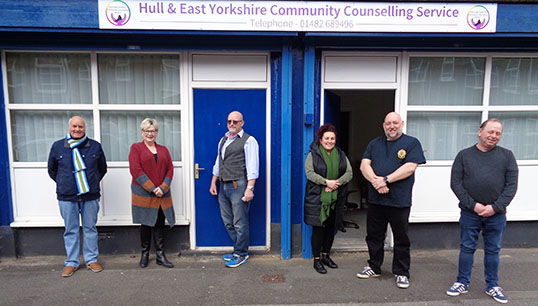 Anxiety and depression can often remain hidden in the maritime community due to its traditionally macho culture. To tackle the problem, a new counselling service is reaching out to improve the lives of Merchant Navy veterans and other older seafarers in Hull. Sarah Robinson reports
Serving in an armed conflict is one of the most challenging scenarios for a person's mental health, leaving many veterans with post-traumatic stress disorder (PTSD) that haunts them for the rest of their lives.
'Unfortunately, what we often then see with Merchant Navy veterans is that they deal with their PTSD by hitting the bottle,' says Nautilus member Keith Thompson, 'and it would be much better if they talked to someone qualified to give them the right support.'
Mr Thompson is a retired purser who served in conflict himself when his vessel, the Hull-Rotterdam ferry Norland, was requisitioned as a troop carrier for the Falklands War. He was awarded the Merchant Navy Medal in 2018 for his work with MN veterans, and for the last year has been helping to refer veterans to a new counselling service offering particular expertise in managing PTSD.
Known as the Hull and East Yorkshire Community Counselling Service (HEYCCS), the facility was set up in March 2020 after another local psychotherapy service changed its focus to serve mainly women and children.
'Three of us who had been working at the other centre felt that there was now a gap that needed to be filled regarding veterans' and older men's mental health,' says HEYCCS clinical director Carl Norton, 'so we established our new service, working initially on a voluntary basis.'
Alongside fellow psychotherapists Dorothy Parker and Craig Brody, Mr Norton has been able to keep the new service open for face-to-face therapy during the past year's pandemic lockdowns, because this kind of support is considered by the UK authorities as too important to suspend. 'We do offer counselling over phone and video calls,' he explains, 'but many people with complex PTSD don't get on with those and need to come into the centre.'
Having been referred to HEYCCS via local veterans' associations, social services or the NHS, clients can expect an initial assessment of their needs, followed by weekly one-to-one therapy sessions and sometimes a chance to join a mutual support group. 'Veterans appreciate being with their own community,' notes Mr Norton, 'and they're often prepared to come to us when they would have been put off by the thought of going to a general counselling service.'
Therapy at HEYCCS is currently free of charge to clients thanks to a grant from the UK National Lottery, and other funding bodies are being approached in order to secure the service's long-term future.
Keith Thompson can attest to the effectiveness of the therapy, as he has received counselling himself to get to the bottom of something that has bothered him since his war service in 1982.
'I first got involved with the centre because I knew it could help many of the people I see in veterans' groups like the Norland Crew Association and the South Atlantic Medal Association 82,' he says. 'But I then came to realise that I had my own mental health problem related to being very uncomfortable with silence, and talking to the counsellors helped me unpick that and realise it was related to a traumatic experience in the Falklands.'
More Merchant Navy seafarers are living with the consequences of wartime experiences than we might think, he adds. 'As well as the Falklands, people alive today were involved with campaigns like Aden, Cyprus and Palestine, and they start to reflect on those as they reach retirement.'
Sadly, another cause of depression and anxiety in the seafaring community can be the macho culture of the Merchant Navy itself. 'I come across people who have PTSD not just from wars, but because of shipboard bullying – particularly homophobic bullying,' says Mr Thompson.
Mr Norton adds: 'Another thing we see in this community is that men might be expressing their trauma through angry outbursts and perpetrating domestic violence. We also come across men who are actually victims of domestic violence themselves, but that macho culture means that they have never said anything about it.
'I would say to all those people: please don't suffer in silence, as there are qualified, experienced people here to listen to you without judgement.'
……………………………………………………………………………………………………………………………………………………………………………
To make contact with the Hull and East Yorkshire Community Counselling Service, call 01482 689 496 or email communitycounselling.hey@outlook.com. The service is on Facebook and Twitter, and a website is in development.
---
Tags