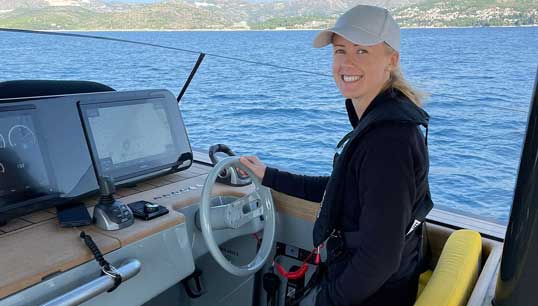 A former Dynamic Positioning Officer (DPO) now making the move ashore, Karley Smith was the first female to win the UK Maritime & Coastguard Agency Officer Trainee of the Year Award. 'Staring at screens all day' was a common misconception of her job, she says. She is happy to recommend a career at sea, but like many of her peers looks forward to time when a female at sea is 'no longer a surprise', a 'morning lads' briefing is more gender neutral – and safety clothing fits.
What was a typical day as a DPO?
I was responsible for keeping a 12-hour watch each day, operating and monitoring the Dynamic Positioning (DP) System as well as keeping a safe navigational watch.
This involves navigating the vessel to each new drilling location and setting the vessel up in DP. monitoring the vessel's position and DP status, ensuring that the thruster response, sensor information and power availability are always all within operational limits. I also monitored the vessel's stability, controlled the ballast system and monitored any cargo operations occurring. Drillships regularly work with a platform supply vessel that provides provisions, stores and both wet and dry bulk cargoes such as cement and mud which are required for drilling operations.
The DPOs on the bridge co-ordinate and control all vessel movements in and out of the 500m zone, as well as all helicopter operations conducted on board. Additionally, we respond to and initiate any alarms and signals in the event of any emergency situation. As part of my role in an emergency, I was coxswain of a lifeboat.
Why did you choose a career at sea?
My entry into the Merchant Navy wasn't planned. While studying for my A-Levels my younger brother embarked on a cadetship at Fleetwood Nautical College. I attended an open day that he was helping at and I was attracted by the opportunity to complete a degree while also training for a career at sea. I had always intended to go university, but this seemed much more appealing. To be debt-free and gain a degree, as well as professional qualifications with a clear career structure in a career that can enable you to see the world; what's not to like?
I decided to apply to James Fisher and Sons and was subsequently offered a cadetship on the Pacific Nuclear Transport Limited (PNTL) ships that Fishers were managing at the time, pending the outcome of my A Level results. Come results day, I received the results required for both the university I applied to and the cadetship with PNTL. I was therefore faced with a choice and a career at sea won. In September 2006, I was enrolled on Fleetwood's first Foundation Degree course, partnered with Liverpool John Moore's University and began the three-year cadetship programme.
Tell us some of your career highlights so far – and challenges
In 2020 I changed sectors, moving from offshore to the private yachting sector. These industries vary vastly and the adjustment was in itself a challenge. I was fortunate to be part of the new build team for a 140m explorer yacht, currently the largest in the world. Being a part of the first crew to sail onboard following the launch is something I will never forget.
Career highlights for me include achieving my Master Mariner Certificate of Competency and being the first female to win the Maritime and Coastguard Agency Officer Trainee of the Year Award (2010).
I have worked on numerous ships with some fantastic crews, sharing adventures and experiences in places that you would not usually consider visiting. I was on the first drillship to sail around Cape Horn, continuing on to drill the first deep water well offshore Peru, an unforgettable voyage which included passing the Christmas Isles on Christmas Eve.
Everyone experiences personal difficulties in life, and I would say that working away from home, often thousands of miles away and on a different time zone can be a challenge.
While it has not been entirely smooth sailing, I can honestly say that for most of my sea-going career I have felt supported and encouraged by my colleagues. I always aim to carry myself in a polite and professional manner, treating others as I wish to be treated. This approach has not always been reciprocated, but then the difficulties I have faced at sea could also be encountered in an office environment.
In the past I have faced those that do not believe women should be at sea and have been vocal in airing this opinion. It has only ever added to my determination to succeed and fortunately, this viewpoint is encountered less and less.
After 16 years at sea, I am now looking to move into a shore position which I don't doubt will bring its own challenges.
To be debt-free and gain a degree, as well as professional qualifications with a clear career structure and opportunities mapped out after qualifying in a career that can help you see the world was appealing Karley Smith, DPO
How can women be made to feel welcome and retained in a career at sea?
There are a few things that could be changed in order to assist women to feel both welcome and included. For instance, amending company policies so that they do not only refer to 'he', providing information on maternity rights and including it in contracts or the SMS and during operational discussions, a simple 'morning all' rather than 'morning lads' would all contribute towards making women feel welcome.
Personal Protective Equipment (PPE) can also be a problem for women with regards to the sizing. I have been on board several vessels that did not have PPE to correctly fit me and I know that female colleagues have experienced the same.
Attitudes in general need to adjust so that a female at sea is no longer a surprise, but instead viewed as normal.
What are the best things about your job?
Working on an equal time for time rotation enables you to have a good work/life balance which is important to me. I have also been very fortunate to work all over the world, from Peru and Brazil to Singapore and Thailand.
Would you recommend seafaring as a career?
Maritime is such a vast industry with many possible career paths. The UK historically was a leading shipping nation and even now around 90% trade is transported by ship. As an island nation, the UK is always going to need shipping and the many roles required to facilitate this. I have found my career so far to be both challenging and rewarding, so I would recommend it to others.
Tell us one thing that people may not know about your job
I have met a few people that think the role of a DPO is to simply sit back and stare at screens all day. There is however, a little more to it than that! In order to become a DPO you must follow a structured training scheme and DP operations themselves vary vastly.
---
Tags