Members at work
Emma Walters on working in the RFA and the importance of being part of a Union
18 November 2021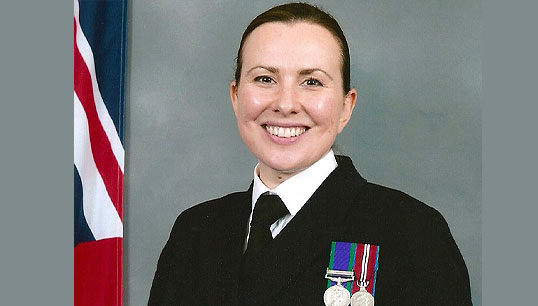 With a 20-year career in the Royal Fleet Auxiliary, communications and information systems (CIS) officer and Nautilus Champion Emma Walters talks about the importance of being in a Union and her hopes for mentorship in the future. She tells us about her many responsibilities as the head of a vessel's CIS department, from supporting the Olympics to providing humanitarian relief in the Bahamas.
What originally attracted you to a career in maritime?
I had never heard of the Royal Fleet Auxiliary (RFA) prior to seeing an advertisement in the Daily Mirror in 2000. I had been visiting my father and was having a look through his newspaper, even though it was a week out of date!
The post sounded really interesting, so I joined as a communications rating and was very excited when I received notification that my application was successful and was interviewed at HMNB Portsmouth.
Do you have any personal or family connections to the sea or inland waterways?
None of my family are seafarers, although family holidays as a child were usually via ferry to the continent taking advantage of the newspaper offers and visiting Denmark, Germany and Belgium.
I had never considered a career at sea before. When I met my husband in 2012 he was serving with the British Army's Port and Maritime Regiment as an army navigator and he now works for Associated British Ports in Cardiff.
What did you do in your career before joining the maritime sector?
Before I joined the RFA, I worked for the British Association for Shooting and Conservation as secretary to the deer officer, assisting in the administration of the Deer Management Qualification, travelling around the UK attending game fairs and country shows.
What does your current job involve?
As a communications and information systems officer (CIS), I am head of the ship's CIS department. This is one of the smaller departments onboard RFA vessels in a team of seven to 10 people.
Each day can be so different. One day I'll be responsible for ensuring CIS departmental outputs are maintained and the next I could be preparing a media article for submission to Navy Media to support RFA strategic involvement with NATO or Task Group co-ordination.
In addition to CIS head of department, I am also the ship's public relations officer, laser safety officer, radiological protection officer and classified books officer.
Tell us some of your career highlights so far – and career challenges
Having a career in the RFA that has so far spanned 20 years, there have been a number of highlights!
In 2012, I was appointed to RFA Mounts Bay to provide communications support during the Olympics, where I just happened to meet my future husband! I also had the opportunity that year to take part in the RFA's Remembrance Day Cenotaph contingent. I have never had to stand so long in one place, and one of the hardest things was walking off after being stationary for over an hour!
In 2017, I successfully completed the RFA Admiralty Interview Board and commenced the process of officer training at BRNC Dartmouth.
I was appointed to RFA Mounts Bay again in 2019 to support hurricane relief operations in the Bahamas. In my role of ship's public relations officer, I was responsible for hosting the BBC media team onboard and additionally a production team that came onboard to interview personnel directly involved in the disaster relief for the BBC's Festival of Remembrance.
Who has helped you the most in your career?
There have been so many people that have influenced my career path over the past 20 years, with far too many to mention here!
My husband, Shaun has supported my career 100% since retiring from the British Army. He's the one who gets left at home whilst I am at sea. He's given me the confidence and support to achieve my dream of being an RFA officer.
What is the one change that would make the biggest positive difference to your job as a maritime professional?
I don't think there's any one change that would make the biggest positive difference to my job as a maritime professional. However, I am pleased to see so many women take that step to undertake a career at sea and I hope that I can help guide and prepare them to the challenges of leadership and achieving their goals in a maritime career.
What are your future career aspirations?
Even after 20 years, I still believe the RFA has a lot to offer, and I don't plan on moving elsewhere soon, particularly as the role doesn't really offer a direct transfer to any other shipping company. But I do look forward to having the opportunity to mentor other people within my current role.
If you're working at sea now, would you like to take a job on shore in the future?
Having worked at sea for 20 years, usually completing two ship appointments every year, I would be keen to have the opportunity to take a job on shore in the future. Being a part of the RFA, there are a number of positions available to me to work in a shore-based environment and then have the opportunity to return to sea.
How long have you been a member of Nautilus, and what made you join?
I have been a member of Nautilus since I became a member in the RFA. The way I see it is you insure all other aspects of your life – your home, your car – and being a member of Nautilus is like insuring your job!
My father was always a member of a trade union throughout his working life and he passed on the importance of being a union member. There are so many benefits to being a member of Nautilus, even if it's just for the discounts! Nautilus seems to foster an atmosphere of inclusivity and knowing that in the event of an issue at work, Nautilus would be able to assist me to resolve any problems is well worth the membership.
I have been a Nautilus Champion since March 2020, although with my work/leave pattern, it has been difficult to have the opportunity to assist. However, I was able to participate in the recent 'Build Back Fairer' campaign whilst I was on leave.
What is your favourite film?
My husband and I absolutely adore Star Wars, so much so it was an absolute no brainer that we would have a Star Wars themed wedding in 2017!
We were able to book Darth Vader to attend which really made the day! Star Wars was such an integral part of my childhood.
Tell us one thing people may not know about you
I only passed my driving test in 2011 at the grand old age of 26! When you mostly work at sea, driving is not an essential requirement!
---
Tags