Members at work
Former yacht purser Samantha Morris raises the flag for mental health in maritime
12 May 2022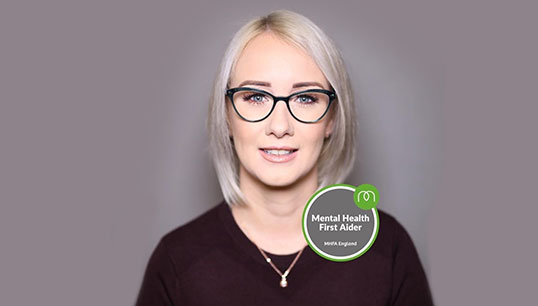 Samantha Morris explains why she believes mental health awareness is key to building a better future for the maritime industry after the pandemic.
During Mental Health Awareness Week 2021, Samantha Morris launched a fundraiser for the Mental Health Foundation as she took on the challenge of climbing Helvellyn in the Lake District. She completed the climb in less than six hours and more than made her fundraising targets. Now she has set her sights ashore and is busy planning the launch of her new business ,but is as focused as ever on the need for good crew support.
What originally attracted you to a career in maritime?
My grandma used to travel a lot. She would have at least four holidays per year and cruising was one of her favourite ways to escape. In my late teens, myself and my dad followed in her footsteps and started cruising together.
I became very envious of the crew that were able to enjoy several voyages repeatedly, and with the bonus of being paid to experience it.
Do you have any personal or family connections to the sea?
My dad was in the Royal Navy as a submariner on the HMS Renown.
What does your current job involve?
I have recently come ashore to start a new business venture with 'crew at its heart' so my working life has changed a lot. But to me the crew are the most important aspect of any vessel.
If the crew are well taken care of and are both happy and feel safe on their home away from home this can have a massive positive impact on the successful running of the yacht, its operations and the cruise experience given to our guests.
In my purser role it was all about crew management, crew welfare and safeguarding, guest & crew logistics, all finances, budget control, invoicing, petty cash, purchasing requests and credit card reconciliations. All administration of the vessel, port clearances and vaccination sourcing etc. The list was endless and always a welcome challenge.
Tell us some of your career highlights so far
The highlight of my career by far is the people I have met along my journey, whether that is crew, port agents, provisioning companies, recruitment agents. I love building relationships with people.
In February 2022 I joined the 'dream boat' after an eight-month career gap to rebuild my health. The universe had given me more than I could ever have imagined and I flourished and regained my confidence from a series of health issues. While I have now resigned from this position I am excited for this new journey ahead.
What were your career challenges?
My career challenges, well there were a few. Sourcing precautionary vaccinations for 40+ crew before arriving at our destination when there was a global shortage of Hep A&B; and of course, the Covid-19 pandemic, when all the planes in the world sat on the tarmac at airports and I needed to be able to fly crew to and from the vessel. It was impossible.
Who has helped you the most in your career?
My inspiration is Karine Rayson of The Crew Coach (TCC) – she actively listened to me when I needed it the most. Karine and the TCC community have given me the safe space to be myself and encouraged me to be vulnerable, courageous, and brave, knowing that together we can make a positive impact in the industry.
What is the one change that would make the biggest positive difference to your job?
For the maritime industry to be more mental health aware. This is a daily challenge for seafarers who spend months working away on our 'home away from home'. Some people might say this is the choice we make – to both travel and have generous salaries that are hard to find with shore jobs – but this does not mean that our mental health should be ignored.
I recently read 'How maritime can build back better from Covid-19' from the Nautilus e-telegraph and I feel that this is one of the ways in which we can do this. I feel that a Mental Health Awareness certification should become part of the STCW requirements for each seafarer.
Crew changes are important to ensure that crew do not get fatigued from working long hours and spending days without stepping foot on shore. This would also prevent accidents from happening. The industry should be more proactive than reactive to these situations.
What's your favourite podcast?
Happy Place by Fearne Cotton. Every Sunday a new episode is released, and a new celebrity or public figure is interviewed about their own experiences with mental health.
What do you like doing in your free time?
In my spare time, I attend yoga classes, listen to guided meditations and sit by the sea as these relax my mind from my busy working days and restore my balance.
What is your favourite place you have visited during your career?
Western Samoa. I escorted a tour there during my world cruise on the cruiseships. The tour was called 'Village Life.' I visited a local family home and they cooked, danced and welcomed us with open arms.
What are your plans for the future?
Aligning myself with my core values and my desire to achieve the right balance between work and downtime. I am busy preparing for the launch of my new business which I have co-founded in order to spread the awareness of both the mental and physical healing qualities of essential oils as these helped me to heal tremendously during my recent health challenges which led to me deciding to come ashore.
How long have you been a member of Nautilus, and what made you join?
I have been a member for over two years. I joined due to the pandemic when some of my peers lost their jobs without notice and others had their salaries withheld. It is always amazing to become part of a community, but I have really learned a lot from Nautilus. Both from Rachel Lynch, Mark Dickinson, and from the e-telegraph.
---
Tags