Members at work
Nautilus Champion Charlie Gibbons on being a skipper and patrolling Army sea ranges
9 December 2020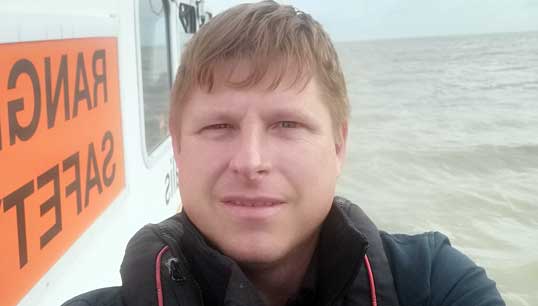 Nautilus Champion Charlie Gibbons works as a RHIB skipper for Boskalis on a vessel contracted to the UK Ministry of Defence to protect the sea danger area at Army firing ranges.
What is a typical day in your job?
The usual routine boat checks preparing for sea. Then we head out from Dover to the two military firing areas that we patrol: one in Hythe Bay and the other at Lydd, just off Dungeness Point.
We establish comms with the Range Controllers onshore, and before the troops can start firing we clear the area of any vessels, swimmers or paddle boarders that might be in the danger area.
During the day we will intercept all vessels heading towards the area and steer them clear of any danger.
Why did you choose a career at sea?
As a kid I worked in a kitchen with a chef who worked on cruise ships. His stories of travelling the world, the places he saw and people he met on the way sowed the seed of curiosity.
Tell us some of your career highlights so far – and challenges
Travelling around the world as a teenager with a small cruise company, Swan Hellenic, was undoubtedly the best time of my life. I got to go to countries that were just not available to the normal tourist like Libya and Myanmar/Burma, and witnessing old war veterans returning to the war graves of their lost comrades was very moving indeed.
I helped one gentleman to find the gravestone of his best friend in Libya. He hadn't been back there since the war and he told me he got shot next to him during the fighting. It was a privilege to share that war hero's moment with him.
Also, working for a big company like Boskalis in recent years has given me so much experience, helping in their other sectors of the business like surveying and NATO training exercises. The people I meet along the way gives me lasting memories and friendships that will last a lifetime.
Undoubtedly the biggest challenge at sea is the bad weather we encounter. It puts you under pressure and makes you use every last bit of skill you've gained over the years from experience.
What are the best things about your job?
Meeting people from very different backgrounds that you would never meet doing another job. These people become friends for life, who are great to keep in touch with through social media.
Tell us one thing that people may not know about your job?
We can patrol the ranges up to 365 days a year, day and night.
Would you recommend seafaring as a career?
Most definitely. Travel the world learning a trade and getting paid for it. What more do you need?
Become a Nautilus Champion
Nautilus is looking for members who can volunteer their time for the Union's campaigns, media outreach and recruitment initiatives. You can help breathe life into these programmes, bring a more diverse and representative voice to the Union, and ultimately help us create greater awareness of the maritime industry among the public.
Register your interest
Meet more Champions
---
Tags