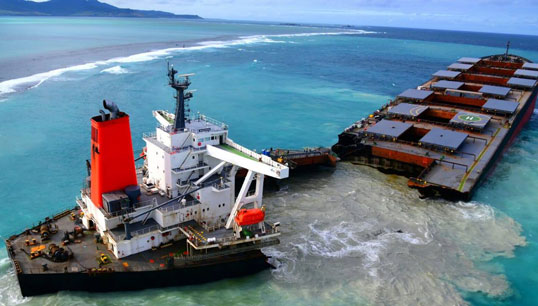 Nautilus International has warned against the criminalisation of crew aboard the MV Wakashio, a Panamanian-registered, Japanese-owned bulk carrier that ran aground off the coast of Mauritius on Saturday 25 July.
The Union called for a full investigation into the incident and for the government of Panama to step up to its flag state responsibilities.
Nautilus general secretary Mark Dickinson said: 'We stand in solidarity with the crew of the MV Wakashio. There must not be a trial by public opinion. A full – and independent – accident investigation must be carried out by the relevant authorities.'
Mr Dickinson said Panama had been slow to respond in the early days of the accident. 'The vessel is Panama-registered, which means that under the United Nations Convention on the Law of the Sea (UNCLOS), it would be the responsibility of Panama. So, the question is why Panama is not leaping into action?'
The MV Wakashio – owned by Okiyo Maritime Corporation and Nagashiki Shipping Co Ltd – was carrying nearly 4,000 tons of fuel en route from China to Brazil when it struck a reef on Pointe d'Esny, a known sanctuary for rare wildlife.
Mauritian Prime Minister Pravind Jugnauth announced a state of emergency after satellite images showed a dark slick spreading in the turquoise waters near environmental areas that the government called 'very sensitive'.
On 11 August the International Maritime Organization (IMO) and the United Nations Environment Programme (UNEP)/United Nations Office for the Coordination of Humanitarian Affairs (OCHA) Joint Environment Unit jointly deployed an oil spill response expert.
France sent a military plane and a naval boat carrying pollution control equipment to help deal with the oil spill. Japan dispatched a six-member team to assist the French efforts.
The vessel broke in two on 16 August.
---
Tags