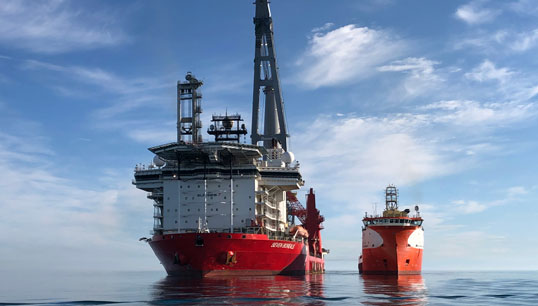 Compulsory redundancies at offshore vessel operator Subsea 7 have been reduced following ongoing consultation with the Union.
In July, Subsea 7 had anticipated a worst-case scenario of losing 167 permanent crew, 272 non-permanent crew and 325 third-party crew, from all disciplines across project and marine. The combined effect of the global pandemic and the lack of vessel utilisation was blamed for the threatened job cuts.
At the Union's sixth collective consultation meeting with Subsea 7 on Tuesday 4 August 2020, it was reported that 58 applications for voluntary redundancy (VR) had been accepted. Two applications for VR had been rejected as the roles were not at risk, and one person had withdrawn their application.
The number of permanent employees at risk, due to the announced three vessels to be laid up as part of the fleet reshaping, remains at three. Ten of the other permanent employees who were at risk have been reassigned leaving 99 positions still at risk of redundancy.
Subsea 7 was hopeful of securing work so that many of these jobs could remain. Some contracts have since been awarded but at the meeting, the company's offshore resources vice-president, Neil McDonald, reported that while the quarterly results were reasonable, active fleet utilisation was still down.
Subsea 7 said that despite operations moving in the right direction, the proposed job cuts would continue as planned.
Nautilus strategic organiser Lee Moon and liaison officers Neil McArthur and Roy Jeffrey have repeatedly urged the company to name vessels where jobs were at risk of redundancy or risk an open-ended redundancy situation which would be contrary to UK legislation and good practice.
The Union's next meeting with Subsea 7 is likely to take place the week commencing 31 August 2020.
download a full report on Subsea 7's quarterly finances
---
Tags