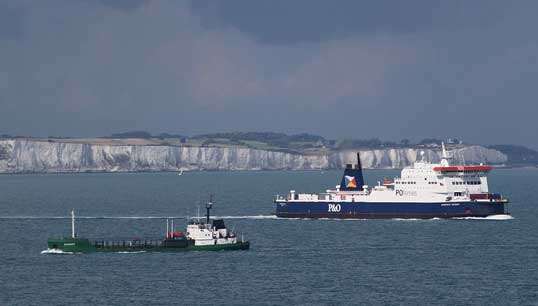 P&O Ferries has confirmed the removal of rehire restrictions, after pressure from Nautilus International during ongoing negotiations over redundancies.
A proposed exclusion clause would have meant officers made compulsorily redundant were prohibited from being re-hired for a 12-month period.
P&O said that, following Nautilus' request, the clause no longer applies for those leaving on compulsory terms. It did point out however, that those who may return (once trade improves) within the 12 months, might face 'tax implications and it will be down to the individual to seek guidance from HMRC.'
'Any officer who returns to the business would be on the harmonised terms and conditions as this would be a new contract of employment.'
The ferry operator had planned to make 108 officers redundant across its Short Sea and North Sea routes following the layup of five ships due to the coronavirus pandemic.
In July, after intense negotiations with Nautilus International, the company revised down proposed officer redundancies and acknowledged the need to retain additional skilled maritime professionals.
It also proposed an internal Job Retention Scheme (JRS) that it claimed could help reduce redundancies further across the company. The scheme would pay 60% of employees' salaries and run from November 2020 through to April 2021.
In a meeting with Nautilus on Friday 31 July 2020, P&O said that, due to accepting too many voluntary applications, the number of officers required to join the company JRS had reduced from 22 to eight.
Nautilus Strategic Organiser Martyn Gray said: 'This has only confirmed our view from the first day of consultation, that the company have made too many redundancies. We are extremely disappointed that 14 highly skilled Officers, as it currently stands, will not be able to join the scheme.'
P&O said it would reconsider its marketing strategy after Union Liaison Officers and Nautilus voiced concerns regarding a lack of advertising by the company, as its major competitors are flooding the market advertising that they are operational and Covid secure.
P&O also announced on 12 August that David Stretch will take over the reins at P&O Ferries following the resignation of chief executive Janette Bell.
---
Tags