Government
Seafarer financial support on the table with maritime minister Robert Courts
9 November 2020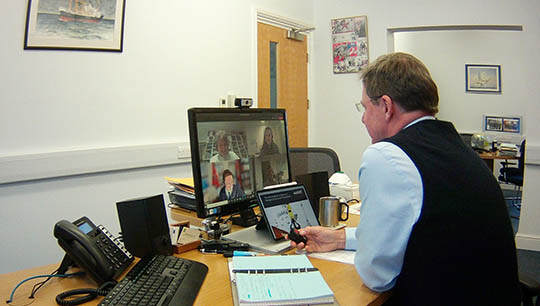 Nautilus International general secretary Mark Dickinson has met with new maritime minister Robert Courts to discuss key issues on behalf of members, including Covid-19 support, Brexit, gender discrimination and the national minimum wage.
Mr Courts took office as maritime minister in September, replacing Kelly Tolhurst.
During the meeting, Mr Dickinson focused attention on two key domestic issues related to the crew change crisis: financial support for seafarers and, within that context, the Seafarers Earnings Deduction.
'Nautilus has engaged with government officials following up on work done under Ms Tolhurst and have provided wage data to support our case for an easing of the qualifying days due to Covid-19,' Mr Dickinson said.
'I also asked the Minister for an update on the prospects of some support for our maritime key workers from the Treasury. He pledged to continue to work with us on these issues, but he was keen, it seemed to me, not to build up any false hope. He stuck to the line that it is not possible to help everyone, but he recognised that seafarers as key workers were deserving of support.'
On the issue of Brexit, Mr Dickinson emphasised that seafarers should not be forgotten in the EU-UK negotiations, especially regarding mutual recognition of certificates and state aid matters relating to the Core Training Commitment within the Tonnage Tax and the Support for Maritime Training scheme (SMarT).
Mr Dickinson expressed thanks to the government for extending the national minimum wage to seafarers in UK waters, which has the potential to boost British jobs in conjunction with the new points-based immigration system and increased investment in offshore wind.
He asked the minister to ensure that the minimum wage agreement is enforced and to extend these measures to international routes between the UK and neighbouring countries. This suggestion was welcomed by Mr Courts, who said he would follow it up.
The meeting concluded with discussion of a case of age discrimination and the loophole allowing for gender discrimination by overseas employers. There was agreement that work on these issues, which has been pushed back due to Covid-19, will continue as soon as possible.
---
Tags