Industrial
Windfarm jobs at critical juncture say unions, calling for a Scottish government '11th hour' rescue
28 October 2020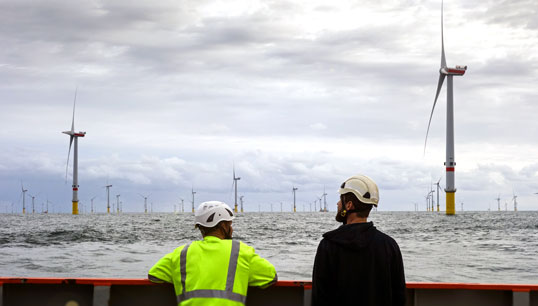 Nautilus has expressed support for unions pressing Scottish First Minister Nicola Sturgeon not to give up on a renewables firm at the centre of a state-owned offshore wind farm row.
Ministers are understood to have done a U-turn on supporting renewables manufacturer Burntisland Fabrication (BiFab) in case it was seen as illegal state aid under current European Union regulations.
The re-evaluation came after BiFab, in September, reportedly failed to win any work on Scotland's largest offshore wind farm – the multi-billion-pound Seagreen project – located just a few miles from its yards in Burntisland and Methil in Fife.
As Scottish media reported BiFab is teetering on the brink of collapse, the Scottish Trades Union Congress (STUC) wrote to the First Minister urging the convening of an emergency meeting to seek a resolution.
In the letter STUC general secretary Roz Foyer states that BiFab has become an 'emblem for historic failures of industrial policy, but that it also has the potential to create jobs in the Scottish renewables supply chain.'
Ms Foyer calls for an 11th hour effort to save the Neart na Gaoithe (NNG) offshore windfarm contract by bringing together unions, government and the main stakeholders Saipem (lead foundations contractor) and DF Barnes (marine contractor) to explore all options for securing the work.
Roz Foyer said: 'It is an understatement to say that we have reached a critical juncture for the offshore wind supply chain. The faith of workers in the potential for a just transition is at breaking point. It is to the benefit of no-one, whether in government or industry, for BiFab to be added to the list of supply chain failures.
'Unions have sought at every juncture to find a solution to the current problem. There is too much at stake for us to give up now.'
Nautilus industrial organiser Gary Leech said the Union supported the STUC in its efforts to try to save wind farm jobs.
---
Tags