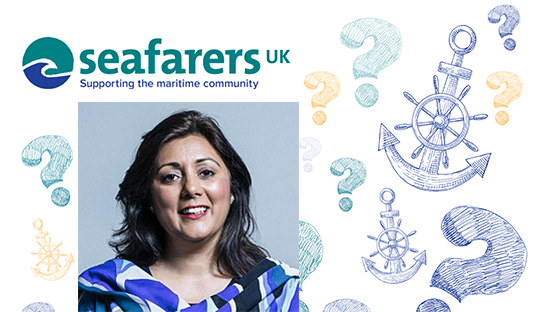 During the Covid-19 pandemic, Seafarers UK has been missing the income that usually comes from its supporters taking part in events like the London Marathon. So, the maritime welfare charity has had to get creative with its fundraising – starting with a highly-successful online quiz night.
Held on 28 January 2021, the Maritime Quiz was hosted by former UK shipping minister Nusrat Ghani MP and attracted 169 participants from all over the world. Quizzers included some high-profile figures from the maritime community such as ICS secretary general Guy Platten – plus of course a contingent from Nautilus.
As a Maritime Quiz, all the questions had a nautical theme, but those who didn't know their port from their starboard had little to fear, because the answers were all multiple choice and included questions from popular culture such as the name of Captain Jack Sparrow's ship in Pirates of the Caribbean.
The event also offered a lively text chat, in which one participant persuaded the parliamentary host to read out a classic maritime joke:
- Why are pirates called pirates?
- Because they aaaarrrgggh!
When the scores were totted up at the end of the hour, first place was taken by contestant Zoe Spicer, who won a luxury boat trip onboard Good Dog with Mark Ashley Miller. Second place had to be decided by a tie-breaker, and Sebastian Taite-Ellis emerged victorious, winning dinner at a Michelin-starred restaurant with Nusrat Ghani. Other prizes were given out at random in a prize draw.
The fundraising was achieved through participants buying £10 tickets for the event, and further donations could be made on the night by clicking on links onscreen. The total raised was over £2,000 – which was considered such a success that further online events are now being planned for upcoming months.
Seafarers UK is the main charitable funding body for the UK maritime sector, awarding grants to welfare projects and seafarer support organisations. During the pandemic, the charity has been supporting seafarers affected by Covid-19 through partnerships with the Seafarers Advice & Information Line (SAIL) and SeafarerHelp, the helpline of the International Seafarers' Welfare and Assistance Network (ISWAN).
---
Tags