Nautilus news
Nautilus seeks clarity on seafarer exemptions from UK hotel quarantine
29 January 2021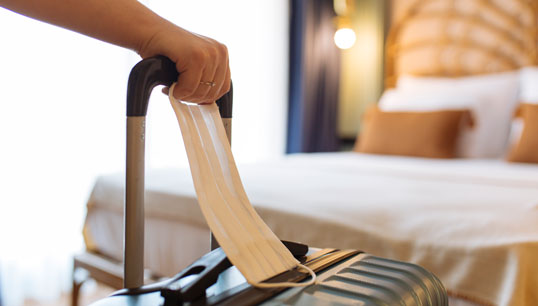 Nautilus is seeking clarification from the UK Department for Transport (DfT) on seafarer exemptions from the latest mandatory Covid-19 inbound travel rules for England.
No details have yet been announced, but the government has indicated that people travelling to England from certain 'high risk' countries will soon have to quarantine in government-sanctioned hotels so that measures to combat the pandemic can be more strictly enforced. The rules will apply to areas associated with new coronavirus variants including South America, Portugal, and many countries in Southern Africa.
A ban on holiday travel will also be tightened, with travellers required to declare their reason for leaving the UK.
Travellers may have to pay for their compulsory hotel stay themselves.
At this stage, it is believed the mandatory quarantine will only apply to those countries on the banned travel list. Seafarers do not currently have exemptions from the requirement to self-isolate when returning from these countries.
It is expected to take at least another week before the new rules for inbound travel to the UK are clearer, but the Union is liaising with the DfT and Maritime UK on behalf of members to ensure essential maritime worker travel needs are considered.
In the meantime the Union is warning members to be aware there may be some disruption at borders, and to ensure they adhere to its current guidance on what documentation is required for travel before they travel, including the passenger locator form.
Members should also keep an eye on the government page that lists which travellers for work are exempt. Currently the UK jobs that qualify for travel exemption list still shows that 'Seaman, masters, inspectors and surveyors of ships' are exempt.
The UK has already placed 33 high risk countries under a 'travel ban' to protect the nation from new and more infectious coronavirus variants emerging overseas.
Most people who have been in South America or many countries in Southern and Central Africa in the previous 10 days cannot enter the UK. Cape Verde and Panama are also included on the so-called 'red list' of countries updated on 29 January 2021, as is Portugal because of its links to Brazil.
British and Irish nationals, long-term visa holders and residents can enter and must quarantine for 10 days.
---
Tags