Community
Sailors Society receives strong pledge of support from Neptune signatory Swire Pacific Offshore
28 January 2021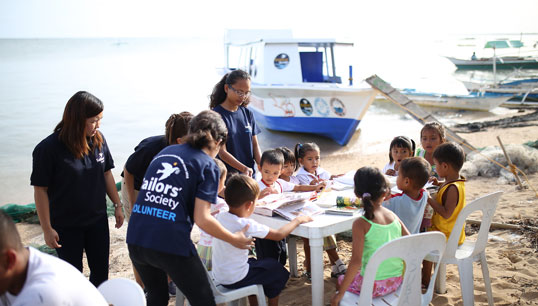 The Sailors' Society has received a $25,000 (USD) donation from Swire Pacific Offshore (SPO) and a pledge of continued support for the charity's work with the maritime community's most vulnerable as it faces the ongoing impact of the Covid-19 pandemic.
The funds from its longstanding partner will go towards Sailors' Society's work around the world. Half will be dedicated to the charity's work in the Philippines, where it has recently been rolling out mental health awareness, family resiliency workshops and pre-departure seminar modules for seafarers and families.
Sailors' Society CEO Sara Baade said: 'In these tough times, it is particularly important that we continue our support to seafarers and their families. The pandemic has impacted massively on the mental health and finances of so many and we've seen a huge increase in calls for help.
'Between January and October 2020, we gave out 12 times the number of welfare grants than we did the previous year. We're really grateful to SPO for recognising the importance of investing in support for the maritime community's most vulnerable, especially in these challenging times.'
The onset of Covid-19 has brought extra pressures to merchant seafarers, preventing many from returning home and forcing them to work months over their original contracts. Others have been unable to start their contracts and have had incomes decimated as a result.
SPO managing director Peter Langslow said: 'SPO has a longstanding partnership with Sailors' Society and has collaborated with the charity on several key programmes to support seafarers and their communities. The pandemic's impact on seafarers has been as great, if not greater than on any other group, and many seafarers continue to endure extended duty periods because of crew change challenges, as well as economic impact. This donation from SPO serves as a strong pledge of support to these critical workers, and we recognise the fine work that Sailors' Society does to support them.'
Swire is one of 300 maritime organisation signatories to the Neptune Declaration on Seafarer Wellbeing and Crew Change, which calls on industry and government to end the crew change crisis and pledges signatories to use their influence to get seafarers home.
---
Tags