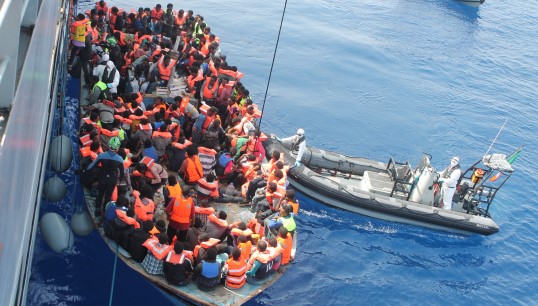 The United Nations Human Rights Committee has found that Italy violated the right to life of more than 200 migrants, including 60 children, who died after authorities failed to respond to distress calls from their sinking vessel.
More than 400 adults and children set out in a boat from Libya on 10 October 2013, but their vessel began to sink in international waters a few hours later after it was shot by a boat with a Berber flag, according to the UN.
One of the people aboard phoned the Italian number for emergencies at sea on several occasions and gave the sinking boat's coordinates. However, because it was in the Maltese search and rescue zone, the Italians passed on the details of Maltese authorities to the caller even though Italy had a vessel nearby. Rescue was delayed for several hours until after the boat had capsized – when Malta requested and finally received assistance from an Italian naval vessel.
The Committee passed judgement after receiving a joint complaint from surviving family members of the victims, who alleged that even though the shipwreck occurred outside the national territories of both Italy and Malta the countries still had a responsibility to intervene in a timely fashion under the International Convention on Maritime Search and Rescue (SAR).
After finding in favour of the complainants, the committee has urged Italy to investigate the incident and prosecute those responsible.
Committee member Hélène Tigroudja said: 'Had the Italian authorities immediately directed its naval ship and coastguard boats after the distress calls, the rescue would have reached the vessel at the latest two hours before it sank.'

'State parties are required under the international law of the sea [United Nations Convention on the Law of the Sea (UNCLOS)] to take steps to protect the lives of all individuals who find themselves in a situation of distress at sea. Even though the sinking vessel was not located in Italy's search and rescue zone, the Italian authority had a duty to support the search and rescue mission to save the lives of the migrants. Italy's delayed action had a direct impact on the loss of hundreds of lives.'
---
Tags