Equality
Inclusive cultures need allies, hears first trans-pacific women in maritime webinar
19 May 2022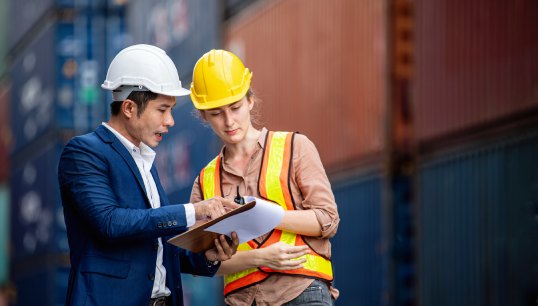 A new dialogue between maritime women and allies in the UK and Australia kicked off with a webinar on how to bring work colleagues to the diversity and inclusion conversation, and make them an ally in overcoming workplace barriers.
The new Maritime UK event had a mix of female and male panel speakers and was one of several events held to mark the International Maritime Organization (IMO)'s first Women in Maritime Day. Specifically, it addressed the day's theme of 'Training-visibility-recognition: supporting a barrier-free working environment'.
A raft of speakers from both sides of the world looked at strategies for improving diversity. One well received idea included the concept of workplace training and development incentives where staff would also be encouraged to also attend an event related to diversity and inclusion and report back to their peers. The meeting was also cautioned against the dangers of the 'glass floor' – putting someone on a pedestal; and 'spotlighting' – where one person can be unduly pressured as the 'token person that stands out' by virtue of their gender or ethnicity.
Head of diversity and operations at Maritime UK Chrissie Clarke said: 'Maritime UK is delighted to launch our new Global Women in Maritime series with Women in Maritime Australia to shine a light on gender equality across the globe. Making progress on diversity and inclusion is a global challenge, and as a global sector, we are really looking forward to seeing how we can make quicker progress together.'
Co-chair of the Diversity in Maritime Taskforce and chair of the Women in Maritime Network Sue Terpilowski said: 'Women's equality cannot wait. We are delighted to collaborate with the IMO to "support a barrier-free working environment" and look forward to a continued dialogue with Women in Maritime Australia.'
UK maritime minister hails sector progress on diversity
UK Minister for Maritime Robert Courts welcomed the new UN observance day for Women in Maritime: 'Women have made and continue to make an invaluable contribution to the global maritime sector. It is critical that we recognise and celebrate their achievements on this inaugural day.
'We want the sector to be open to everyone, and we want to put the policies in place to support and promote women to work and progress in the industry. I am delighted to see the global cross collaboration between Women in Maritime Australia and Maritime UK to share experiences and best practice.
'Looking ahead I am and excited to see what the maritime industry can do to promote diversity and help women achieve their potential.'
Meet the Nautilus equality and diversity team
Equality and Diversity Forum secretary Danny McGowan
Danny McGowan heads the Nautilus Equality and Diversity Forum. He provides reports to the Union's general secretary and puts member requests in action as required.
Email Danny
Young Maritime Professionals lead Martyn Gray
Martyn Gray leads the Nautilus Young Maritime Professionals (YMP) Forum and can provide advice to members who wish to speak to a younger union representative
Email Martyn
Women's lead Rachel Lynch
Rachel Lynch is our organiser dedicated to assisting female members with any workplace issues or provide advice to members who wish to speak to a female representative.
Email Rachel
---
Tags