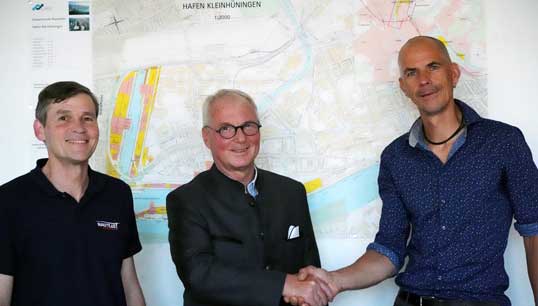 Sea Chefs Group has signed a new collective bargaining agreement (CBA) with Nautilus International's Switzerland branch, which covers about 1,700 employees working on rivercruise ships for various tour operators and ship owners in Europe.
Sea Chefs performs hotel and restaurant management and ancillary services on behalf of the owners and charterers of river cruise vessels and tour operators worldwide.
Dr. Michael Knauer and Daniel Thiriet, directors of Sea Chefs Holding Group, met with Nautilus national secretary Holger Schatz in Basel in May to sign the CBA, which centres on achieving improved wages for hotel staff and transparent cooperation on implementing appropriate working hours.
'Only extensive transparency can guarantee the protection of multinational employees, precisely because frequent changes of territory, vessels under a variety of flags, as well as cultural and language barriers, lead to staff vulnerability,' said Mr Schatz.
'For years many hospitality providers have professed to correctly record working hours and compensate overtime where applicable. However, the unique constellation of multinational staff on the European waterways network necessitates external monitoring. As inspections such as the ones in the Netherlands in November 2021 are still rare, agreements between companies and trade union are all the more important.
'The contract signed today is a big step on the long road to socially acceptable regulations and improvement of working conditions in this sector. It is also part of coordinated efforts by the European social partners to create a legally watertight and socially acceptable industry.'
In 2020, the River Advice Group (now United Rivers), one of the largest employers of nautical and hotel staff in the sector, signed a pioneer overall employment contract with Nautilus.
---
Tags