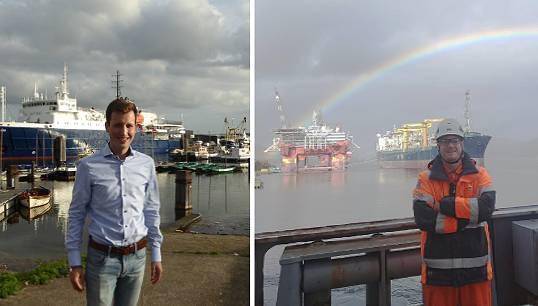 Vlissingen Maritime School and Maritime Institute Willem Barentsz (MIWB) in Terschelling have each awarded a cadet with a prestigious Nautilus prize for Most Socially Minded Student.
Maritime Institute Willem Barentsz
25-year-old Roan Landstra was awarded the Most Socially Minded Student prize on 22 September at Maritime Institute Willem Barentsz's (MIWB) graduation ceremony. Sadly he couldn't be there in person as he was onboard Van Oord's fallpipe vessel Stornes off the coast of Stavanger. However, Roan was addressed online by Nautilus communications advisor Hans Walthie, who shared the opinions of the MIBW teachers.
'This title is given every year to the student who, according to the MIWB teachers, has made a great effort for others in addition to his own studies. Not only for fellow students but also for teachers or others on the island,' the report said. 'This year the award goes to a student who is known to everyone within the organisation as a positive and socially minded student.'
Roan's attitude particularly came to the fore during a fatal accident involving a detached boom, an incident which had a significant impact on him. He was also notable for his willingness to explain things to fellow students and share stories about his sea time, while always being modest.
'I was very surprised, but I think it is an honor to receive the prize,' Roan said. 'Do I think being socially minded [while at college] is important? Absolutely, and you have to do it onboard too. That is why I became a member of Nautilus. It is good that there is a maritime union, together we are stronger. I can only recommend it to all maritime young people!'
HZ University of Applied Sciences
Meanwhile, 22-year-old Reinier van Setten was awarded his prize on 28 September during graduation at the HZ University of Applied Sciences, Vlissingen.
Mr Walthie read out the report drawn up by the maritime school's teachers at the ceremony. The report highlighted Reinier's helpful attitude and his extensive extracurricular activities, which included work on the college's training committee ('where he regularly dared to ask critical questions'), his election as as Young Maritime Representative for the Netherlands and his attendance at IMarEST meetings in Delft with his classmates.
Reinier performed his sea time with Holland America Line and plans to join Nautilus when he goes onboard, following further study at TU Delft.
---
Tags