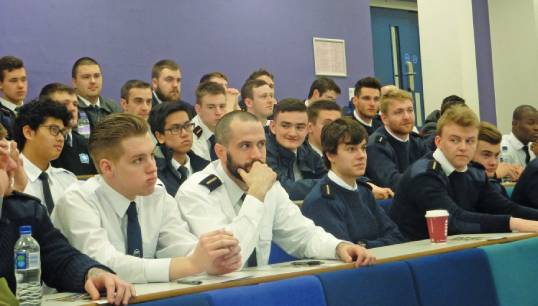 Nautilus International is part of a new group of industry professionals specially set up to prioritise the health and well-being of cadets during training, both on land and at sea.
Young people are critical to the future of maritime, so it is important they feel safe and supported at every step of their cadet journey. While an opportunity for a new career and adventure, being a cadet is hard work, often with long periods away from home and family, learning new skills and technologies.
The aim of the Cadet Welfare Support Group is to protect the cadet throughout this training, ensuring the correct teaching, practice and conditions are consistent throughout, while providing an external support and intervention system.
Made up of representatives from Nautilus International, the Maritime and Coastguard Agency (MCA), and the Merchant Navy Training Board, the support group will investigate cadet health and safety issues as and when they arise, evaluating the risk to cadet's safety and, if required, manage and implement a course of action.
The support group expects sponsoring companies and the trainers who manage cadets to provide adequate support, training and safe working conditions at all times when onboard.
Members who would like to report an issue to the group can do so by contacting Nautilus International in the first instance.
Nautilus International cadet lead Rachel Lynch said: 'Nautilus welcomes the introduction of the Cadet Welfare Support Group, which will act as an invaluable feedback tool for those who are integral to the future of our industry. It will also help those responsible for the education of cadets to understand the issues they face, so that they can ultimately improve standards and champion change.'
Maritime Minister Baroness Vere said at the launch: 'We remain dedicated to supporting and protecting our seafarers.
'The launch of the Cadet Welfare Support Group is yet another testament to our unwavering commitment to ensure that our cadets' health and well-being are in safe hands. This initiative underscores MCA's dedication to address concerns head-on and conduct thorough investigations when issues are raised.'
Maritime and Coastguard Agency chief executive Virginia McVea said: 'The Cadet Welfare Support Group is an opportunity to ensure the cadet training experience is the best it can be. Safer seas and shipping are at the forefront of the MCA's work, and that starts with our cadets.
'The safety and well-being of cadets while training is paramount – any issues experienced during this training will have a direct impact on the cadet's mental and physical health.
'Issues brought to the attention of the group will be dealt with as quickly as possible, to ensure the cadet's safety is not at risk.'
---
Tags