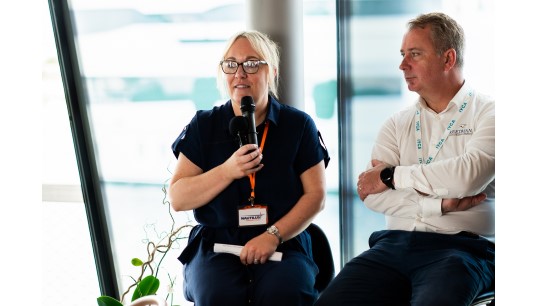 Cheryl McCann, a Nautilus International strategic organiser working in the Union's yacht team, was a panellist at the Resilience Voyage event at the International Yacht Club (IYC) in Antibes on 22 and 23 September 2023.
The event, organised by Yacht Pearls of Wisdom (YPOW) and Luxury Hospitality, was a two-day forum aimed at women yacht crew. Attendees could speak with and listen to specialists and women within the industry, who were able to provide expert advice on various matters including mental and physical wellbeing. It gave attendees and panellists the opportunity to share experiences, discuss topics of interest, and create social connections.
'I was very honoured to have been invited to be part of the event and attend on behalf of Nautilus, it was amazing,' said Ms McCann. 'It was packed with helpful and supportive advice, and we heard from passionate and influential people about their experiences within the industry such as Emma Ross [Seas the Mind], Laurie Drummond [The Sisterhood Collective] and Gemma Hulbert [The Yacht Stew].
'Taking part in the panel discussion and simply being in attendance at the event enabled me to speak to everyone from 'green' to current and former yacht crew, and it was extremely informative and beneficial hearing them share their experiences.'
---
Tags