Education and training
Cadet pay 'muddles' and online training quality flagged at Nautilus Equality and Diversity Forum
25 April 2022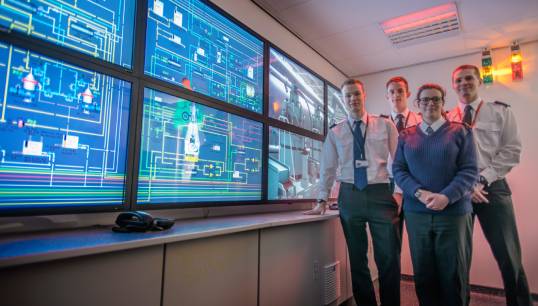 Better and fairer pay for cadets globally, the poor quality of some online training and the cost of career personal development training were among a raft of topics raised at the Nautilus Equality and Diversity Forum's (EDF) break out group for young maritime professionals.
The first of at least two EDF meetings to be held this year heard insights from members and Union officials about 'large pay rate differences' and that cadet pay was 'quite muddled'.
Nautilus heard more many cadets are being paid lower than the national rate for apprentices and are not receiving enough to live on.
Nautilus executive officer Martyn Gray, who is also the Union's Young Maritime Professionals lead, said cadetship pay was an ongoing issue the Union was aware of and that Nautilus is working to address the problem.
'Cadets are "sponsored" for their studies, which means that the rates offered are not subject to national minimums – many rates have been the same for the last decade, despite inflation amounting to around 40% in that time,' Mr Gray said.
'This is an issue that Nautilus has engaged with and is exploring what options are available for improving cadet sponsorship rates and delivering cadet "pay" that meets the costs experienced by those in maritime training, many of whom aren' t eligible for other forms of support'.
Council member Sam Belfitt highlighted some wider concerns about the costs of career personal development training due to the fact maritime companies are often not supporting people as they used to, so course fees are becoming 'pretty unattainable'.
The meeting heard the Union is looking into charitable funding for those further on in their career wanting to pursue personal development training.
Concern was also expressed that some virtual learning courses in colleges and online distance learning were often below expectations for the price, with some lecturers not being fully available and providing videos rather than live lectures online.
Attendees heard there is also a big focus in maritime on upskilling in new areas such as alternative fuels, as well as on particular software, and the need for a higher level of IT support skills to be taught. Knowing the basic steps of troubleshooting on control and monitoring systems, for example, would be useful futureproofing for engineering officers if built into a cadetship course.
Another problem was of 'education not keeping up with reality'. Mr Gray said that this was a point raised by the Maritime Skills Commissioners in their review and analysis of cadet training.
'Maritime training is always on the backfoot compared to the developments are actually coming through. So there is no one in the training environment that's looking years ahead and asking what's likely to be onboard a ship with the people that are coming through and qualifying, or getting into the early stages of their career to make sure that their knowledge is relevant.'
Mr Gray it was important to hear from members via Union meetings about deficiencies in maritime training and other issues so they have a voice in identifying skills gaps in the industry. Nautilus can raise these internally and with various policy working groups via external bodies that it partners with such as Maritime UK and feed into other government policy when it comes to maritime training and the UK's Maritime 2050 strategy.
The next EDF meeting in 2022 is planned to be in November to coincide with the Union's UK Branch Conference.
---
Tags