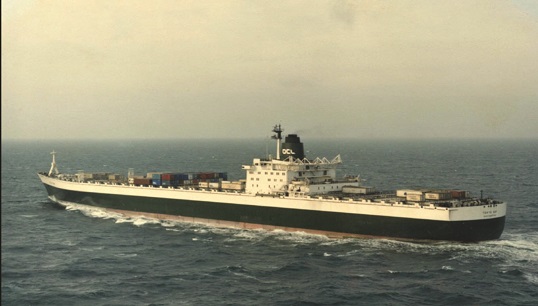 In recent months, long-standing Telegraph favourite Ships of the Past has gone online, sailing to your screen in a special interactive hub at www.nautilusint.org/ships-of-the-past.
We've now started to gather readers' memories of the vessels featured online, starting with the highly popular vessel Tokyo Bay. We had a head start with this, because Tokyo Bay inspired readers to write in via telegraph@nautilusint.org when its Ships of the Past profile appeared in print in 2020.
Since going into the online hub, Tokyo Bay has elicited a further outpouring of enthusiasm on social media, often being remarked on as one of the fastest vessels around, and also described as a party ship!
Here are some of the memories people have shared:
'Sailed on her and her sisters Cardigan and Osaka... excellent ships, great accommodation and even better crews... they also had a great wooden crew deck with a pool. We used to have regular barbecues on that deck passing through the Malacca straits. Great memories... they were fast too!'
Ferguson Doyle
'It was the only time I ever recall being overtaken by a cargo ship in my three years on the QE2 and, needless to say, our pride was punctured.'
Dr Chris Haughton
'I sailed on her in 1979 when she was a steamship, then again in the 80s when she had been converted to motor. Powerful beasts that were always 1st in the cue going through Suez, so we didn't get held up by the slower ships.'
John Owens
'There was a legendary story about a man killed many years before at a drydock in Germany. I believe he was trapped or fell inside a tank or hold. Therefore, the crew used to say watch out for 'Herman the German' and there were many strange stories of seeing or hearing people near where the incident happened.'
Gareth Mathias
There are lots more memories to read online, as well as fascinating facts: just head to the Tokyo Bay page.
If you'd like to add to the memories of this ship or any of the other featured vessels, you can share your story by clicking on the Contribute tab on the selected vessel's page and filling out the online form – or email a short 100-word comment to telegraph@nautilusint.org.
Photographs are welcome too: please send high-quality images in .jpg format to telegraph@nautilusint.org and we will consider them for addition to the relevant Ships of the past page online.
The editor reserves the right to crop or edit readers' responses and responses will be published as space permits, online and in the printed Nautilus Telegraph.
Can you help?
When the Tokyo Bay's profile went online, one of the responses we received through the Contribute button was an appeal for information. A reader who was rescued by the vessel in 1981 would like to know who the captain was at the time. If you can help, please email telegraph@nautilusint.org
---
Tags