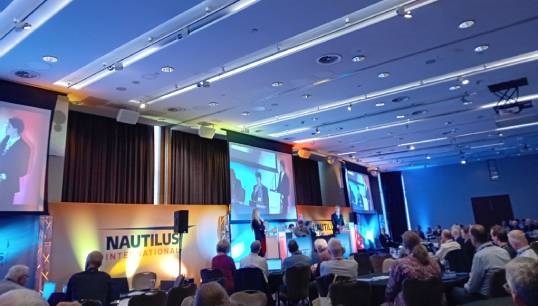 As a professional association as well as a trade union, Nautilus offers members professional development opportunities through seminars at its conferences. At the October 2023 General Meeting, this took the form of four presentations from industry experts who looked at different aspects of the conference theme: Charting a Just Transition
GM23 keynote speaker: Martha Selwyn
The keynote speaker for the General Meeting was Martha Selwyn, who is currently Social Impact Lead at SSE Renewables and previously served at the United Nations Global Compact. At the UN, she also managed the Maritime Just Transition Task Force established at COP 26 by industry, the UN and seafarers' unions.
In her presentation, Ms Selwyn looked at what the concept of the Just Transition means, explaining that it involves greening the economy in a way that is fair and inclusive, creates decent work opportunities and leaves no one behind. It should maximise social opportunities of climate and minimise social risks.
Shipping's role in this process involves investing in jobs and training as the industry decarbonises, she continued. She noted that other industries have already shown that a Just Transition is possible, highlighting how workers were successfully equipped with new skills and jobs in Germany when the coal mines of the Ruhr closed down.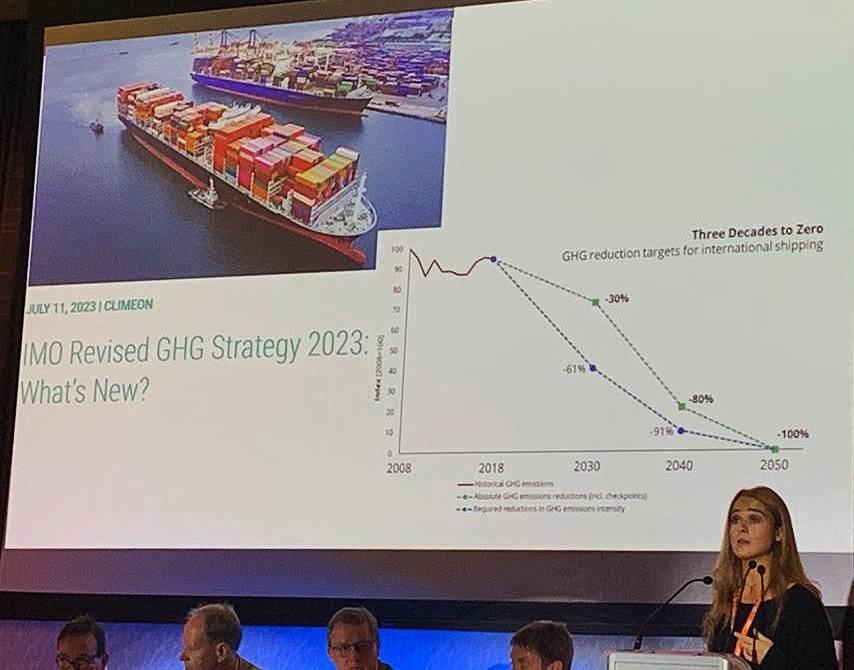 Ms Selwyn also pointed out what is happening so far to achieve a Just Transition in shipping, drawing attention to the Maritime Just Transition Task Force's 10 Point Plan.
In the members' Q&A session after the presentation, Jessica Tyson asked how we in shipping can get the public as interested in the Just Transition as they were in the Ever Given accident that blocked the Suez Canal in 2020. Ms Selwyn replied that we could build on the heightened profile seafaring achieved during the Covid-19 pandemic, but pointed out that work is needed to get all different kinds of media interested in the Just Transition, because both online and print news sources have become increasingly partisan.
AJ Dodd asked where the money would come from to persuade shipping companies to act on the Just Transition. Ms Selwyn said that companies are starting to appreciate the business case for investing in new jobs and training for green skills, often driven by pressure from large retailers whose goods they transport.
Quinten Nollen asked whether the industry fully understood the extent of the training needed for seafarers to handle potentially dangerous new fuels like ammonia, and Ms Selwyn acknowledged that there is a big job ahead to link up the disparate centres of expertise on the issue.
James Stockbridge and Allan Dickson asked for clarification on who should be paying for seafarer training under the Just Transition and who would receive the training. Both Ms Selwyn and Nautilus general secretary Mark Dickinson stressed that employers and governments should pay for the training – never seafarers themselves – and that retraining should be offered to seafarers at all stages of their careers.
The Just Transition and safety for seafarers
Odd Rune Malterud, a former chief engineer and senior surveyor with the Norwegian Maritime Authority, continued the Just Transition conversation at the General Meeting. He brought his long experience as assistant director and technical manager at the Norwegian Union of Marine Engineers to bear in a discussion of the new safety needs associated with technologies including new fuels.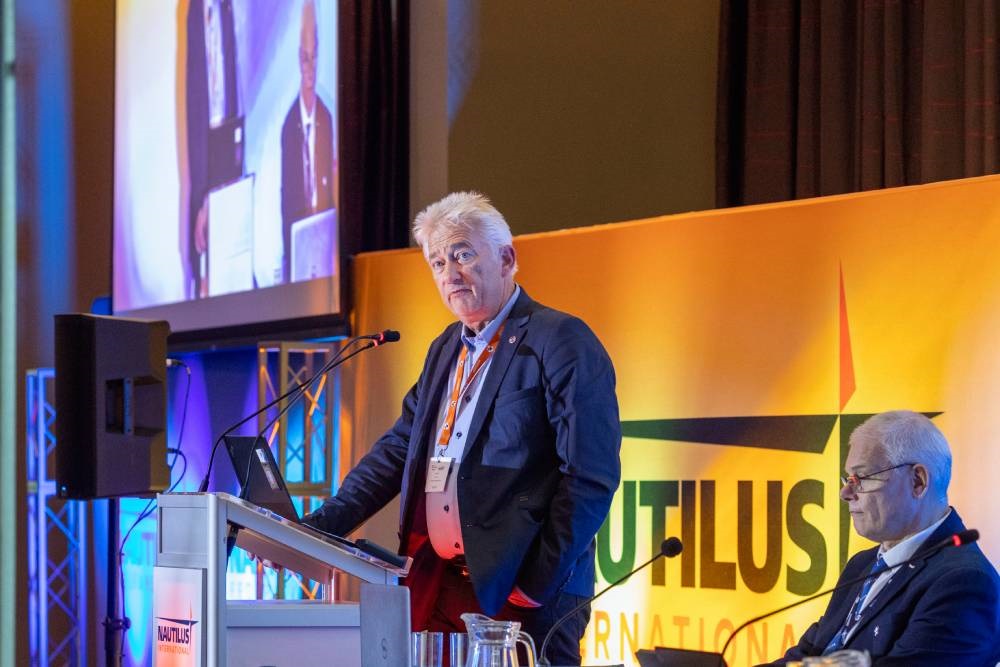 Mr Malterud said that the political drive to improve protection of the environment has led to new environmental regulations, but the human element/safety aspects has often been overlooked at that this must now change.
'Engineer officers and crew will face the greatest safety challenges from energy sources for propulsion, such as high temperature, high pressure, high voltage, toxicity and corrosivity,' he pointed out. 'Furthermore, manoeuvring, maintenance, explosion hazards and firefighting are also challenges in terms of safety and competence.​
'Energy source storage, fuel efficiency, bunkering, charging, construction, evacuation design, firefighting, and search and rescue must also be considered to close the safety and competence gaps.'
He gave a comprehensive overview of the regulatory requirements laid out in STCW, the Maritime Labour Convention, SOLAS, MarPol and other legislation, before highlighting opportunities to improve matters for seafarers in the near future, such as the European Union's Fit for 55 initiative and the upcoming review of the STCW Convention and Code.
Mr Malterud concluded by highlighting the work of the International Transport Workers' Federation in creating technical statements and positions, and noted that the three branches of Nautilus International can use these to bring the health, safety and welfare of seafarers to the attention of national governments.
Charting a Just Transition: what role for workers' capital?
Anne Lindsay is the responsible investment coordinator for the International Transport Workers' Federation (ITF), highlighting the rights of transport workers worldwide and actions needed to support the shift to sustainable transport.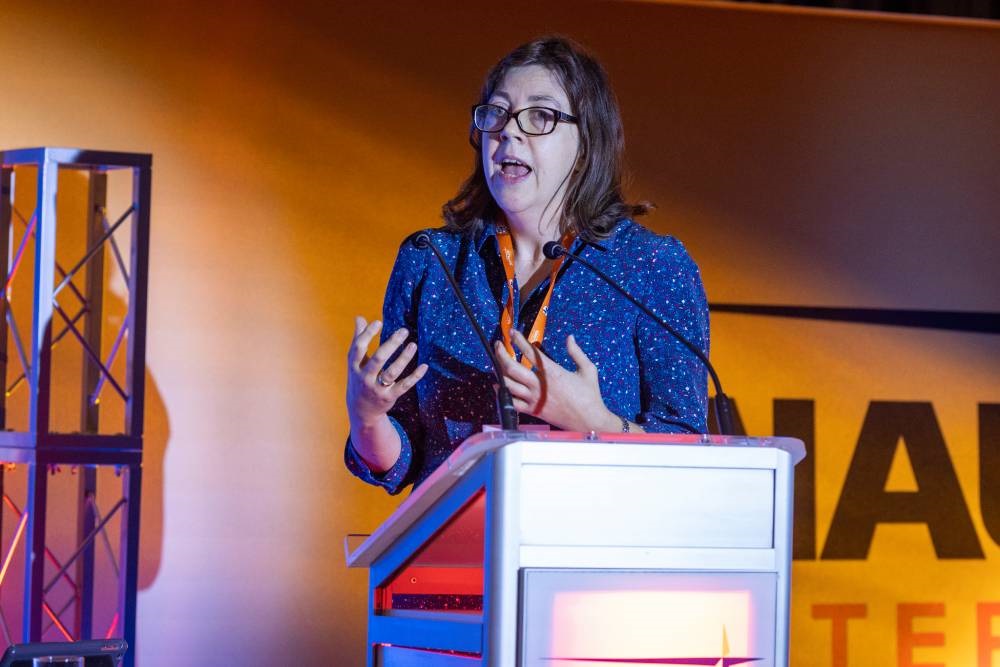 Also a member of the Committee on Workers' Capital, Ms Lindsay was invited to the General Meeting to share her expertise on how to engage with trustees, pension funds and asset managers on ways to increase respect for human rights in global value chains and support a Just Transition.
'Workers' capital' means the money that employees set aside for funds such as pension provision, she explained, adding: 'How can we use this to invest in things that help achieve our goals?'
There is strong evidence of the influence investors can have to change policy in the shipping industry, she continued. She cited the case of investment management firm Fidelity International, which led fellow maritime investors in a successful campaign to persuade governments to take action on the crew change crisis during the Covid-19 pandemic.
To help get the financial sector on the seafarers' side, unions needed to talk the investors' language, Ms Lindsay argued. Trade unions need to be involved in identifying material risks and transition/climate action plans. 'Can we craft indicators around the things we care about to get investors' attention?'
Following the presentation, Nautilus member Dawn Franklyn asked whether seafarers would be expected to contribute to this effort on top of their busy day-to-day work. Ms Lindsay replied that additional burdens should not be put onto seafarers, and support should be available from the ITF and ETF.
SkillSea: Navigating the Future of Skills and Competencies in Maritime Education and Training
Former seafarer Dr Robyn Pyne is principal lecturer in logistics and maritime management at Liverpool John Moores University's Logistics, Offshore and Marine Research Institute.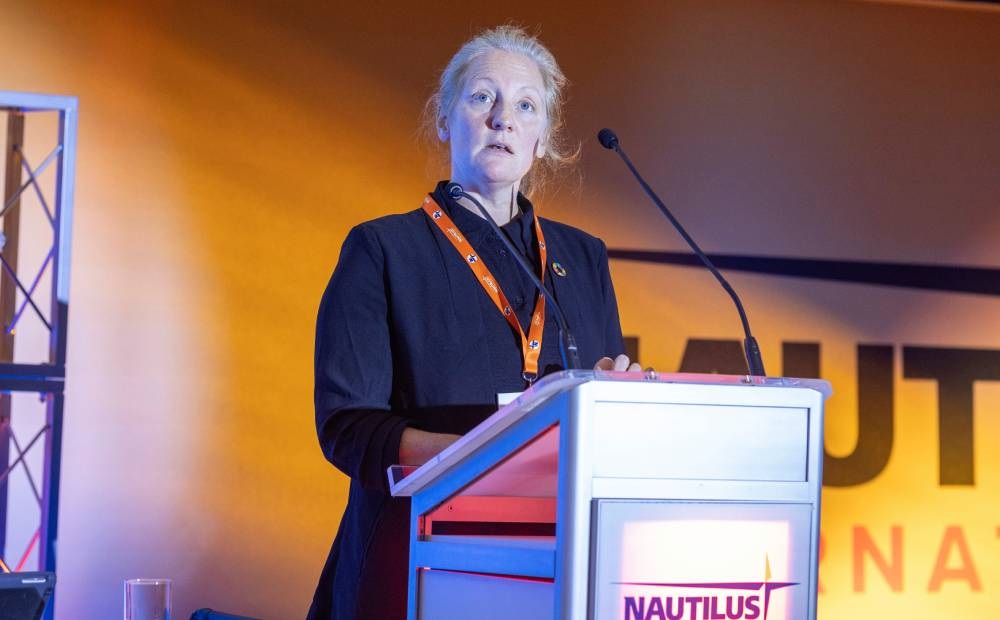 From 2019-2023 she acted as the principal investigator at LJMU for the EU Erasmus+ funded SkillSea project – focusing on future-proofing skills for the maritime transport sector. Nautilus International was also a partner in SkillSea, and the outcomes of the project were published in the September/October 2023 Nautilus Telegraph and on the Union's website.
In her presentation, Dr Pyne gave an overview of SkillSea and looked at what would be coming next for the project. She highlighted that SkillSea has created 'educational toolboxes' to help maritime colleges create courses on the digital, green and soft management skills needed for the rapidly-changing maritime labour market.
Dr Pyne invited Nautilus members to spread the word about the toolboxes, and said these would be regularly reviewed to make sure they were up to date.
Nautilus head of professional and technical David Appleton added that SkillSea had shown industry partnerships to be a relatively swift and effective way to achieve the Just Transition. Waiting for changes to international conventions such as STCW before creating and updating courses could result in maritime education being left behind, he pointed out. 'The concept of going to industry for skill needs is going to have to continue.'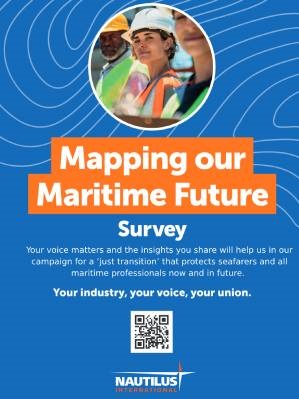 Mapping our Maritime Future survey
We need your views as we campaign for a Just Transition on future fuels and new technology. Take our Mapping our Maritime Future survey.
Take the survey
---
Tags