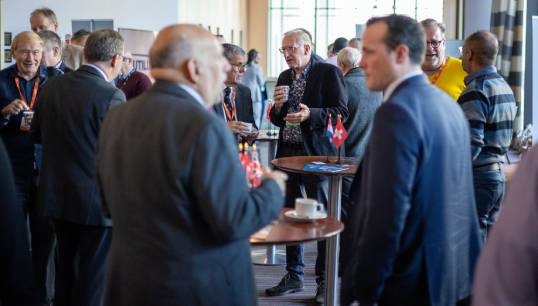 It was a great pleasure to catch up with friends old and new at the Nautilus 2023 General Meeting in October, and also to update members on the work carried out by the Professional and Technical department since the last GM was held in 2019, writes the head of the Nautilus Professional and Technical Forum David Appleton
It has certainly been an eventful four years, with a huge amount of resources dedicated to dealing with the effects of the Covid-19 pandemic, Brexit, the war in Ukraine and numerous other events. While we must be ready to react swiftly as circumstances require, an equally important aspect of the department's work is to implement Union policy as decided by members through motions approved at General Meetings.
I was pleased to report significant progress on a number of the resolutions agreed at the 2019 meeting, including the proposal to pursue certification for senior electro-technical officers (ETO) which has been agreed in the UK.
A Senior ETO endorsement will be made available to UK ETOs in the coming months, and proposals to the International Maritime Organization (IMO) are in the pipeline to include Senior ETO in the Standards of Training, Certification and Watchkeeping for seafarers.
Additionally, the work to implement the 2019 resolution on automation has been highly successful. That resolution urged the Union to collaborate on the development of new training programmes and skillsets, and ensure that seafarers are at the heart of policy developments at the International Labour Organization and IMO. This has informed extensive work we have carried out in various projects aimed at future-proofing skills, including the European Union Skillsea project and the Maritime & Coastguard Agency Cadet Training and Modernisation programme, as well as our extensive involvement in the ongoing process to develop IMO regulations to govern autonomous ships.
Whilst the work on these policy areas continues, we can now look forward to working towards implementing the resolutions that were agreed at the 2023 General Meeting, which include reviewing support for cadets across the Union, future-proofing skills and safety, ensuring adequate support for neurodivergent seafarers and securing safety at sea.
We wouldn't be able to do what we do without the invaluable input we receive from our members, so I would encourage anyone who hasn't attended a Nautilus forum or conference to come along and help shape our policies going forward.
Look out for your email invitations in 2024 to join in with our Professional and Technical Forum meetings and keep any eye on our Events section online. All members welcome.
---
Tags