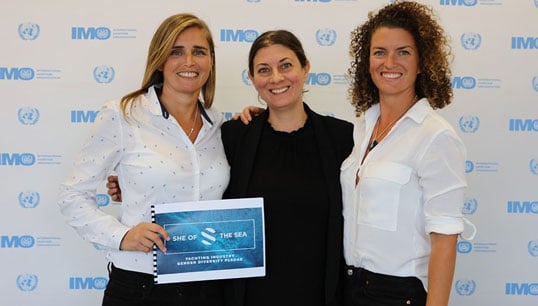 Nautilus has signed new strategic yacht partner She of the Sea, which has launched a range of measures aimed at improving mentoring and diversity issues, dovetailing with the Union's global fairness strategies.
She of the Sea was launched in 2018 as a community network for women yacht crew by a dynamic duo of superyacht chief officers, Jenny Matthews and Natasha Ambrose. Since then the not-for-profit network has expanded so much the co-founders have had to scale back their full-time crew work to devote fully to their venture. The network is working towards charity status.
As well as a Memorandum of Understanding, Nautilus has also signed the She of the Sea's diversity and inclusion pledge, a programme which resonates with the Maritime UK Women in Maritime pledge that the Union supports through its diversity commitments.
Ms Matthews says the She of the Sea network has 'exploded' from when it first began in 2018 and has shaped how some of its services are organically evolving.
'We were just so amazed by the responses from the seafaring women. But I think as our conversations have evolved, we've realised that that's not the only demographic that's interested in diversity and inclusion, and now we have 58 pledge signatories on board, and we've got over 40 ambassadors. There's a huge interest from the shore side, everything from the shipyard to the brokers to the management companies. Everybody is just really engaged in taking this next step as a whole.'
The diversity pledge aims to take 'huge conversations very relevant to yachting' and harness it to wider global views.
'Through the pledge we had the privilege of connecting with many people outside of yachting, and we are seeing the real power and synergies with women in aviation, women in business, and many areas. We also see that when we're working together and sharing that knowledge, we can have even greater impact.'
There are two different ways companies can be involved in 'pledging'. Most pledges are from yachting companies with full commitment, and the rest through 'supporting organisations', such as not for profit initiatives, or organisations outside the direct yachting landscape.
Ms Matthews says the business case for diversity within the superyacht industry, as with other sectors, was 'undeniable'.
Ms Matthews points to the 2015 McKinsey report Why Diversity Matters that found business increase profits through diverse workforces; and a more recent McKinsey study this year Diversity wins: How inclusion matters that found there is a competitive edge to be gained for those that take action to create diversity and inclusion policies compared to those that don't.
'You know that difference is about 25% across measurable performance indicators, so the conversations have now evolved to questions such as, how much do we have to gain and to lose, depending on how much action we take.'
'Goldman Sachs released a statement earlier this year that it would not take a company public unless there was at least one diverse board member, so diversity is becoming about performance, and reducing risk by having diverse voices involved in the decision making.'
It's heartbreaking to see crew that have been at sea for decades, sometimes, leaving, and not really knowing where to go and moving into a completely unrelated industry Jenny Matthews, co-founder She of the Sea and LegaSea
Mentoring platform uses FTSE 100 standard matching programme
She of the Sea has created a new mentoring platform to 'take the luck out of the draw' for career advancement.
The first intake was reserved for female deck and engineer crew, to ensure that they had every opportunity to be involved as spaces are limited. The second intake is now open for deck and engineering crew of all genders, and the final intake is for individuals ashore wishing to connect with the mentors. The first six-month program will pave the way for a much larger intake that will be able to accommodate more crew and shoreside individuals looking for mentoring opportunities.
Known as LegaSea, the platform is the result of what co-founder Jenny Matthews describes as a 'collaboration of passionate professionals in the industry' who often also met through the She of the Sea yacht crew network.
LegaSea is also not specifically aimed at women yacht crew, which is why a separate platform has been created from She of the Sea.
'LegaSea is aimed at connecting passionate crew, with the mentors that they need to have an amazing career, when luck of the draw plays such a large role in yachting at the moment,' said Ms Matthews.
Ms Matthews is passionate about mentoring from personal experience – comparing her career progression, with very little mentoring, to that of her co-founder partner Natasha Ambrose.
'I'm now, 31, and it hasn't been a very streamlined journey for myself, but just hearing the difference between mine and Tash's career journeys has been a driving force. Tash joined the industry when she was 26, and now at 32, she is a highly professional, passionate, and incredible chief officer who has had the privilege of having several very interested mentors from day one. I had not really had connections with mentors until maybe the last two years. I wish that I could bring that [Tash's experience] to all these other really career focused passionate crew out there.'
Another impetus is meeting a need for seafarers who want to come ashore and helping them understand what business are interested in and what career opportunities are realistic. This is also a key focus of the Nautilus-led Sea to City Symposium and mentoring scheme planned for launch at London International Shipping Week 2021.
'At a certain stage we all probably want to move, particularly transfer ashore. We have had the privilege to have had very open conversations with a lot of industry, and one topic that comes up time and time again, is that yacht crew are often lost to the industry they want to keep working in.
'And it's kind of heartbreaking to see these crew that have been at sea for decades, sometimes, leaving, and not really knowing where to go and moving into a completely unrelated industry. It's such a waste of talent'
The mentoring programme uses Mentorloop, an expensive piece of kit used by FTSE 100 companies to profile suitable matches, and Ms Matthews counts herself lucky to have gained three sponsors for it who are equally passionate about 'passing it forward' in the industry. Damen Yachting, Almels and Quay Crew are sponsoring the six-month programme.
'Mentorloop does a lot of the heavy-lifting admin work, so that the mentors can just focus on teaching with their mentees,' said Ms Matthews.
'It is really amazing that we can address career progression by opening up a pathway to link professionals at sea, with the professionals ashore that are just like waiting to welcome them with open arms.'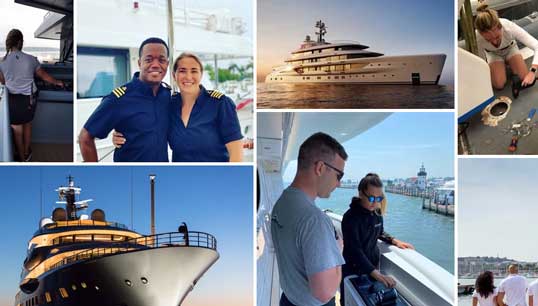 LegaSea mentoring - how it works
Mentees sign up for six months to a database matching profile, which costs 40 euros a month. Mentees identify their experience and where they are looking to grow, and then are matched with appropriate mentors. There is a two-week matching process where mentees can send invitations to connect with up to three mentors.
Mentees will be able to join monthly online live sessions with inspiring speakers. There will also be bi-weekly workshops and networking events on a range of topics from career pathways, being a young manager, to investing savings while in the industry.
---
Tags