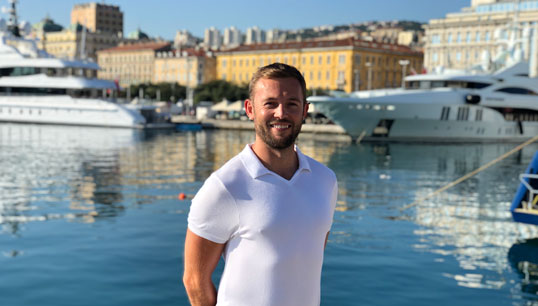 Nautilus officials and yacht members are involved in a new specialist online Yacht Crew Help service to be launched this year as part of a collaborative effort with maritime charities and industry stakeholders. Contributions by Colin Squires from Yachting Matters and Deborah McPherson
A free confidential and multilingual online support service about to launch for superyacht crew is a collaborative project close to the heart of one Nautilus yacht member.
Second officer and Nautilus General Purposes Committee member Michael Toop knows first-hand how important a service that provides round the clock and confidential support to yacht crew will be.
'In less than 10 years in the yachting industry I have lived and worked with three people who have lost their lives, one through an onboard accident and two through suicide,' he explained.
'On top of this I have witnessed substance abuse and dependency.' Unfortunately, my experiences of these types of incidents are not isolated and have been experienced by many seafarers on other vessels.
'Not only could this new service help the vulnerable who feel like they cannot carry on, but also the crew members who have witnessed such experiences.'
Mr Toop and Nautilus strategic organiser Rachel Lynch are on the steering committee for the Yacht Crew Help project alongside ISWAN, which is leading the initiative, and industry stakeholders and strategic yacht partners.
The new Yacht Crew Help website, which is expected to be launched in coming months, is the culmination of research by ISWAN, which recommended a specialist support network for superyacht crew.
Having witnessed first-hand mental health trauma, Mr Toop has also seen the direct impact it has on the whole crew.
'Yacht Crew Help is for all crew who suffer from extreme to mild symptoms [resulting from trauma],' he said.
Over the long term, Yacht Crew Help will raise awareness of the importance of mental wellbeing and help shift attitudes to the stigma surrounding mental health.
Nautilus strategic organiser Rachel Lynch said: 'Nautilus really welcomes this initiative. The service will be an important resource for the sorts of specific situations yacht crew may find themselves in. We see this as a necessary dedicated sector service in addition to our current free Nautilus 24/7 member helpline, which is for emergencies outside of usual business hours.
Yacht Crew Help will provide health and wellbeing resources and trained professionals who can help provide emotional support and wellbeing for aspects of criminal cases or abuse that may fall outside of the Union's scope, added Ms Lynch.
ISWAN project manager Caitlin Vaughan said: 'We know that working onboard can be challenging and that many of the same issues do apply to yacht crew and merchant seafarers alike, albeit in different environments,' Ms Vaughan said. 'For instance, long working hours, employment instability, living closely alongside other crew and extended periods away from loved ones can take their toll. We also know that accessing confidential support can be extremely difficult when at sea or in a foreign country.'
ISWAN research found that 82% of yacht crew had experienced low morale 'sometimes', 'often' or 'always' and nearly 40% had experienced difficulties accessing mental health support. ISWAN also found that 62% experienced problems with on board leadership.
The yacht helpline will be answered by skilled staff trained in providing emotional support and suicide risk assessments.
'Crew can feel confident that they'll speak to someone who fully understands the complexities of working at sea,' said Ms Vaughan. 'If the problem is a practical one, the team do everything within their power to find appropriate help. Support is available, free of charge, via a range of methods including phone, live web-chat, email and call back request, to ensure crew can get in touch in whatever way suits them best with somebody that cares and understands.'
ISWAN is still fundraising for Yacht Crew Help. Superyacht Charities, a fundraising service for charities supporting maritime professionals, has funded 5,000 discreet 'dunny door' stickers (with low tack glue) to raise awareness onboard in staff quarters once the new service is launched.
Keeping fed during a pandemic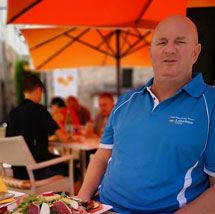 Efrem Leigh, founder of Nautilus strategic yacht partner YachtChefs.com gives some insights in to the all-important role of galley chef during the pandemic.
How is the season for galley chefs?
On the recruitment front I have seen captains only wanting crew based in or near their location, and some don't want to fly chefs in for fear of the Covid-19 risk. Others have been at anchor the whole summer and had little contact with anyone.
Some yachts earlier in the European season had crew isolate onboard. The jobs market saw a surge in early June and then it went quiet. There are still galley jobs coming in for temp and permanent roles in, but many chefs are taking jobs that they wouldn't normally, just so they are working and earning.
What are the food prep protocols around Covid-19?
The main change is the way we shop. There is no more going to local markets or supermarkets. Now we rely on deliveries and local agents to deliver. Produce is also washed where possible but there is less human contact.
Do crew get regular tests for Covid-19?
All crew get tested just before a trip, and the same goes for guests. Different yachts have different systems and must comply with local pandemic protocols in those countries.
Crew flying in from abroad are asked to complete 14 days quarantine and to undergo a Covid-19 test. Chefs must isolate in a hotel room without leaving for 14 days.
Captains screen everyone before they come onboard to ensure they haven't been in contact with potential carriers. If need be agents would also be set up for testing.
YachtChefs.com is a recruitment service based in Antibes, and is committed to being MLC compliant in placing chefs onto superyachts.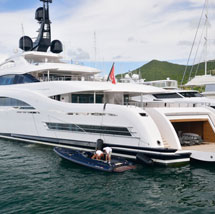 ---
Tags