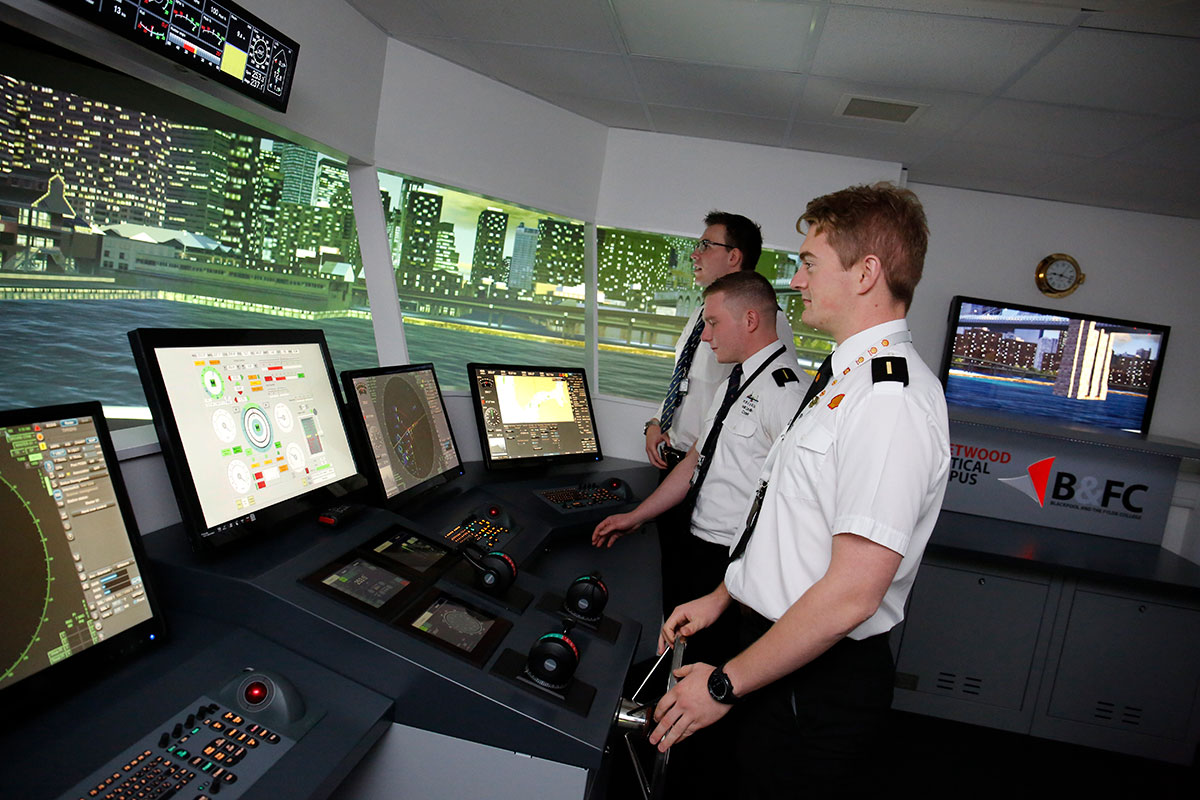 Maritime Skills Commission recommends course modernisation and funding overhaul for cadets in new report, Helen Kelly writes
The Maritime Skills Commission (MSC) has released its Seafarer Cadet Review Report, which recommends that the government must overhaul funding for seafarer training and modernise courses if UK seafarers are to remain competitive in the global shipping sector.
Although the training offered in the UK is seen as good by the rest of the world, it is becoming outdated. That has led to a growing gap between skills requirements for new officers and the education received by cadets. Technological change in shipping will increase this skills gap over the next 10-15 years, according to the report.
Employment of UK officers is at a crossroads. Rapid change is needed in attracting students into the profession, in changing course content to align with present and future sector needs, and in providing the quality education which students deserve.
Rapidly evolving officer training will provide an opportunity for the UK to supply officers with differentiated leadership and technical skills. This will create well-paid employment, with the knock-on benefits to the UK economy.
Without these changes, the employment of UK officers will continue to decline, and others will fill the demand, the report warns.
Maritime Coastguard Agency (MCA) chief executive and chair of the working group Brian Johnson said: 'As the international shipping world looks to make some huge changes over the coming decades, UK officers will play an increasingly important role in managing that transition. This report outlines how the training that UK officers receive at the start of their careers will adapt to fully equip them to take on this leadership.'
Key recommendations
The report recognises that the training regime of UK officers has been slow to change and that hard decisions will need to be made. The final recommendation of the group was to create the necessary environment for change through improvements at the Maritime and Coastguard Agency (MCA) and Merchant Navy Training Board (MNTB).
Other recommendations include:
Recognise that the Standards of Training, Certification and Watchkeeping for Seafarers (STCW) is a minimum acceptable international standard of education for seafarers
Evolve course content to reflect the increasing need for greater technical agility and leadership skills, whilst maintaining a solid foundation in seafaring skills
Move further in the direction of honours (i.e. level 6) degrees
Seafaring officer training should be fully government funded and students must have choice about which college and course they attend
Improve the quality of the learning and experience through improved access to modern electronic equipment, simulators and blended learning tools
Re-think the traditional emphasis on 'time spent' as an indicator of learning and replacing with objective measures
Overhaul the experience of cadets during sea time. Making sure that shipping companies fulfil their obligations fully, that colleges continue to provide mentoring, and that experience onboard is properly blended with simulator experience to create a rich and consistent experience base
Maritime UK chair Sarah Kenny said: 'The UK has a global reputation for its maritime education and training. To maintain that position, we must constantly assess our position and remain one step ahead. I commend the Commission for its leadership and look forward to working with the sector to implement its recommendations.'
Maritime Minister Robert Courts also commented on the release of the report: 'Britain has long been a leader in maritime and as we move into a world of greater innovation and automation, we must ensure that our seafarers have the skills they need to thrive in the 21st Century. The report sets out how we can keep our Merchant Navy at the forefront of maritime innovation for years to come.'
Creating a fairer future for cadet training
In its Build Back Fairer manifesto, Nautilus International is campaigning for the government to increase investment in the Support for Maritime Training (SMarT) scheme to cover 100% of the cost of training UK-resident seafarers and require a commitment from employers to guarantee a period of employment on completion of a cadetship.
Other key requests include:
improve the UK Tonnage Tax scheme so that it helps grow the UK flag by establishing a mandatory flag link, increases employment and training of UK seafarers and contributes to government environmental objectives
promote access to maritime careers and equal opportunities to career progression for people from all backgrounds
Build Back Fairer report
How colleges are adapting
City of Glasgow College
Principal and Chief Executive
Paul Little
'City of Glasgow College teaches at degree level across a range of subjects. Nautical students can progress to Honours Degree level qualifications and beyond. The college is working with tertiary education partners to further develop Honours Degree qualifications that build on and enhance nautical studies and widen career opportunities.
'The college runs pre-cadet programmes for those leaving school at 15 or 16. These are tailored to provide the academic ramp in STEM subjects for entry to a cadetship
'Simulation training is embedded across the curriculum, including full mission simulation (combined Engine Room and Bridge) and Scotland's first 360-degree simulator. A marine skills centre with jetty and rescue lifeboats, and a fully operational ships engine room, are also on offer to allow our students a blended learning approach matched with hands-on learning developed in tandem with industry needs.'
Fleetwood Nautical Campus
Principal
Captain Neil Atkinson
'Fleetwood Nautical Campus has launched several new initiatives this year.
'School leavers can join an approved marine engineer cadet programme at the age of 16 and join their first sea phase at 18. The MNTB/MCA approved course for pilot from September 2021 will complement existing cadet training provision. It will extend the first phase of the cadet programme to allow for more flexible planning of sea berths.
'All successful cadets will complete the programme with an Advanced Diploma (HND) which, in turn, will allow access to a full BSc (Hons) top-up.
'Fleetwood has partnered with the Marine Society to offer a simplified process of enquiry for those wishing to progress their careers. A 'one stop shop' for experienced deck and engine seafarers is being developed for a programme of study - with funding - through just one call.
'BSc (Hons) top-up – approved and validated though Lancaster University - offers a full Honours top-up from either Foundation Degree or Advanced Diploma (HND) within one year. Available to students who have successfully completed either a Foundation Degree or an Advanced Diploma (HND) in deck, engine, or ETO within the last five years.
'The Blended Learning team has expanded provision to include marine engineering that facilitates seafarers to "Learn whilst they Earn".'
South Sheilds Marine School
Principal
Simon Ashton
The report arrives at a time of upcoming upheaval for the Merchant Navy. A time when new technologies are emerging and better trained personnel with broader skills are required to be at the helm. It rightly points out how the officers of tomorrow must have greater technical agility to keep pace with change, the ability to adapt - and the confidence to lead. The expected move to decarbonisation, and its resulting challenges, must be matched by a fresh and wider package of skills for cadets.

To counter the falling number of recruits and encourage people into an industry historically seen as standing apart, an improvement in course content is vital. With qualifications modified, and taken to degree level, shipping could, rightly, attract high performing STEM students.
Without doubt, the UK's maritime industry can be entirely flexible when forced to act, and South Shields Marine School is part of this. When the pandemic struck, we adapted quickly to online learning, and we also brought forward a substantial investment to upgrade our simulators to enhance the online delivery. I'm delighted this move pre-empted the report's recognition of the essential use of this technology as an intensive learning tool.
And we were also the first UK marine school to offer pre-cadetships in both deck and engine disciplines, and are now designing ways blended and distance learning can be incorporated into programmes. We have opened our degrees to online delivery to support those looking to upskill for employment ashore.
The Maritime Skills Commission
The Maritime Skills Commission (MSC) was set up in 2020 by the Department for Transport working with Maritime UK, as part of the government's Maritime 2050 strategy. Its role is to ensure a pipeline of talented people to serve all parts of the industry, covering shipping, ports, leisure marine, engineering, science and professional services.
The MSC's review was overseen by a working group of commissioners, including Nautilus International general secretary Mark Dickinson, and chaired by Maritime and Coastguard Agency chief executive Brian Johnson.
The MSC considered evidence from Lloyds Register, covering the likely trajectory of technology transformation in shipping. It also received submissions from the Department for Transport covering the current funding mechanisms for cadet training, alongside a survey of current cadets through Nautilus International.
---
Tags