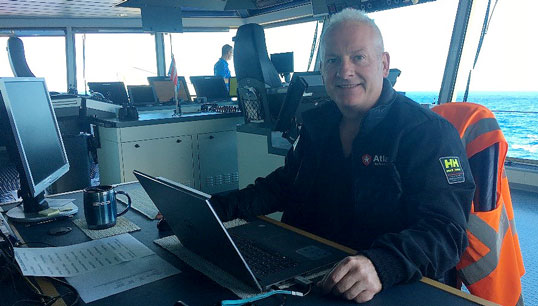 Inspiring the Future Maritime asks volunteers to share their knowledge of careers at sea with young people. Gordon Foot, former submariner and now senior client representative working in the offshore wind, oil & gas and environmental sectors, talks to Saffiyah Khalique about why he got involved with programme and the importance of encouraging girls and young people from disadvantaged backgrounds into careers in STEM
Inspiring the Future is a programme for primary and secondary schools and colleges, run by charity Education and Employers. It aims to provide young people with the opportunity to hear first-hand about jobs and the world of work, regardless of their location, school, or family circumstances.
Research carried out by Education and Employers shows that interactions between young people and employer engagement can boost academic performance, raise earnings in adult life and lower the chances of the young person not being in education, employment, or training. It has also found that these experiences challenge stereotypical views that are often formed at an early age about people and the jobs they do based on gender, ethnicity, and social background.
Inspiring the Future has partnered with Maritime UK to create the Inspiring the Future Maritime programme to raise awareness amongst young people of the diverse career opportunities in the maritime sector. The programme aims to connect volunteers from the maritime industry with young people in schools to share their career journeys and inspire the next generation.
Activities are held either in school with local volunteers or virtually. Due to Covid-19, these sessions predominantly take place over video calls.
Gordon Foot, one of Inspiring the Future Maritime's volunteers, shares his experiences in the maritime industry and as a volunteer.
What is your background in maritime?
I went to a Royal Navy open day and saw all these great battleships, and they gave you all these different brochures and you got to travel the world. At the age of five I wanted to join the Navy, some boys and girls now want to be influencers, pop stars and football players, but in my day you wanted to be a fireman or train driver or something like that.
There weren't many opportunities in Dorset, where I grew up, other than making fishing nets or farming. I come from a broken home, and I ended up in West London from the last year of primary school right through to secondary school which broadened my horizons moving to a multicultural society from rural Dorset.
A few of my friends wanted to join the parachute regiment and the army and I wanted to join the navy. These careers seemed like they could take you away from everything and see the big, wide world. The Falklands War broke out and the Royal Navy stopped recruiting at the time I would have joined, so I waited a year and joined the Navy at the age of 17, on the same day they raised the Mary Rose in Portsmouth, that was the moment that I knew a seafaring career was for me.
I served 14 years and I did it all in submarines. I served during the Cold War period, so most of my submarine work was missions I can't talk about. I then left during the third and final stages of redundancies at the age of 32.
I thought I would get a normal job somewhere, but that didn't work out. I joined the offshore industry working in oil & gas, environmental projects and now wind farms. I did that for seven and a half years, travelled the world and then the Second Gulf War started, and Her Majesty's government got hold of me and asked me to re-join.
I ended up re-joining and serving for five years in the navy because the war had a huge impact in the oil & gas industry. A lot of the survey work I was doing was impacted by that and projects were drying up. After the war, the offshore industry was booming again and instead of serving another ten years in the navy I left again.
I had to start at the bottom of the career pile again to work myself up to a client representative position, despite having seven years of experience in offshore and nearly 20 years as a mariner in the Royal Navy, and I have been doing that for 15 years or so now.
How did you get involved with Inspiring the Future?
Through Maritime UK, Lorna Wagner [programme manager careers and outreach at Maritime UK] promotes Maritime Ambassadors, and through that scheme you join Inspiring the Future. Some ambassadors are contacted by Maritime UK, others through the Inspiring the Future scheme itself.
Being part of Inspiring the Future is my way to give back to the maritime community at my age and stage in my career, by being able to virtually enter classrooms and present during assemblies or careers events to multiple classes.
What has your experience been like?
Pre-pandemic, I attended my grandchildren's pre-school and nursery to give talks on plastics, the ocean, environmental issues, engineering, construction, and STEM subjects.
They live in their own little world and its lovely to enlighten them. We live in Plymouth by the coast, so some of their family members and fathers may be fishermen or Navy so they do understand the talks I have given.
Would you believe that under-fives know about satellites? When I was talking about engineering and windmills in the sea and how we position them, and one of the kids said 'that's because you are using satellites'.
Another boy knew about submarines and a girl knew all about windmills because she lived in Cornwall and had seen them on land and then became fascinated about how we could build them at sea. It's quite eye-opening how much the younger generation knows about technology.
The last event I did was careers-focused. They wanted to know about where we worked and how we worked. The purpose of this talk was to demonstrate or show a video clip of your job. When I was in Taiwan, I recorded a video clip of my work on the ship showing them the equipment that we had, how big it was, why we had a great big crane at the back and the fact that it was 185m which was probably as long as their school and as big as their house!
It is quite easy to put across engineering terms and talk about STEM subjects to children that age because you can relate it to something they might know; to nail two planks of wood together, you get a nail and a hammer and stick them together is a way to familiarise pile driving and foundations of jackets for wind turbines where you are nailing a turbine to the seabed.
The thing I enjoy the most about Inspiring the Future is that some of these children come from challenging environments or backgrounds, so broadening their horizons and showing them that if they put in the work and effort, and want to make something of themselves, that if they have a dream or a desire, then it is achievable. I tell them I left school with limited O-Levels, and I was brought up on a council estate, now I am in a senior leadership position, and I have three master's degrees later in life.
How have you found promoting maritime and STEM as a career for women?
The other thing I like to promote through Inspiring the Future is that boys and girls can do it. As part of my role on social media, I am an advocate for women in maritime. I was May's Champion of the Month for the Nautical Institute Southeast Australia Women in Maritime group on LinkedIn.
I tell them about the different jobs you can have on a boat, whether this is a submarine, cruise liner or yacht. Ultimately, I say that whatever job you can do on land, you can do at sea. Some girls say dancing or childcare, I say how many hundreds of jobs there are on cruiseships, which need childcare or dancers, children's entertainers, it's endless.
I talk about the STEM subjects with both boys and girls, and impress upon them that they must not think that an engineer is a boy's job, or a steward is a girl's job. So, I reverse the roles around and tell them that all the Filipino stewards that are on the vessel are male at the moment and that the women who are currently working with me are an engineering superintendent and marine mammal observers. When they hear that the women are engineers it perks up the girls thinking that maybe they could do that.
One of the best captains I served with was a Norwegian lady who I am still in contact with today because she ran a tight ship, and she was very fair. I make a point of sharing with the children that there should not be and invariably is not a glass ceiling out there. If you are good and motivated you can get to the top.
For some of them it will be a struggle, I have a friend who is transgender in the offshore industry, and I do appreciate that for women it isn't always easy, so that's why I am an advocate for women offshore and do my best to facilitate their careers.
How to volunteer
How to volunteer
As well as Inspiring the Future Maritime, you can get involved with Careers at Sea, run by the Merchant Navy Training Board. This is an ambassador programme for those who have worked in the Merchant Navy.
To find out more about volunteering, visit:
---
Tags