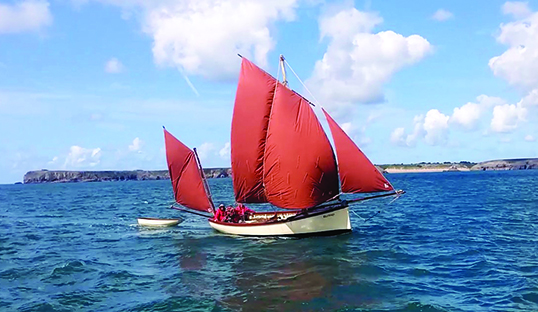 Since the article we ran earlier in 2020 on maritime museums, readers have been writing in with information about their own local museums and historic ships around the UK – many of which use the expertise of volunteers from the seafaring community for restoration, maintenance and even operation. Here we have the story of the West Wales Maritime Heritage Society, sent in by volunteer Rob Phillips
Since retiring from my position as master with UK Dredging – a job I loved – I have been volunteering at the West Wales Maritime Heritage Society in Pembroke Dock.
We occupy an old shipbuilding and repair yard. From small beginnings, the yard now houses a lot of attractions. Among them is an ex-RNLI lifeboat, the Charterhouse, which performed a dramatic rescue off Fishguard 100 years ago.
We also have several historic boats and a replica Tenby Lugger which we can take to sea and demonstrate the sailing techniques of the 19th century fishermen.
All members are unpaid volunteers intent on preserving our maritime heritage for the next generations. Our income is mainly from member subscriptions and visitor contributions.
We have a website – www.westwalesmaritimeheritage.org.uk – and a busy Facebook page: look for West Wales Maritime Museum.
We are working hard to get our exhibits ready to open officially in the spring of 2021, having lost this season because of coronavirus.
If any of your readers would like to join us or visit, our secretary can be contacted by email at: wwwmhs@hotmail.co.uk.
---
Tags