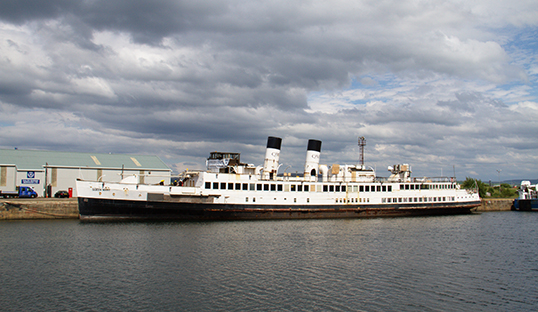 Since the article we ran earlier in 2020 on maritime museums, readers have been writing in with information about their own local historic ships around the UK – many of which use the expertise of volunteers from the seafaring community for restoration, maintenance and even operation. Here we have the story of the TS Queen Mary, sent in by Iain Sim, chairman of the Friends of TS Queen Mary
TS Queen Mary is an iconic steamship built in 1933 to serve Glasgow and the west of Scotland. During its active service, it transported more than 13,000 passengers a week throughout the Second World War and maintained vital transport services on the River Clyde.
HRH Princess Anne, the Princess Royal, is royal patron of the ship, which transported King George VI, Queen Elizabeth the Queen Mother, and young Princesses Elizabeth and Margaret as well as Eleanor Roosevelt during the war.
We are pleased to share that the TS Queen Mary recently received a donation of over £100,000 worth of AVEVA software to support its restoration as a heritage destination in Glasgow, planned to open in 2022. With AVEVA's support, we now have a fully functional 3D model to assist with the accuracy and efficiency of the detailed design and steel renewal phases of her restoration.
The Friends of Queen Mary and Brookes Bell – joint partners in the restoration of the TS Queen Mary – would like to extend our thanks to the ongoing charitable support of AVEVA to restore this truly iconic ship.
To find out more about the restoration and the plans for opening the vessel to visitors in 2022, go to www.tsqueenmary.org.uk
---
Tags