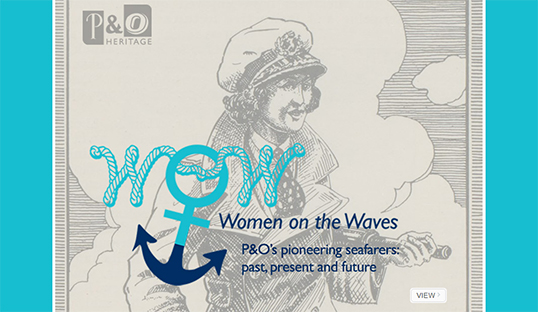 Having already increased their online offerings in recent years, many UK maritime museums have used their websites to keep the public engaged during the pandemic. Some exhibitions were never even intended for 'bricks and mortar' display, as with the online-only P&O Heritage exhibition that Dr Jo Stanley explores here. But while other museums may have a strong online presence, they are also now seeking safe ways to bring visitors back to their premises, as Sarah Robinson finds below
Women on the Waves
Exhibitions about seafaring women are rare. The first – and last – in the UK was in Southampton's old waterfront museum two decades ago. But on International Women's Day this year, P&O Heritage created the world's first online exhibition about women employed on ships: Women on the Waves – P&O's pioneering women seafarers past, present and future.
Senior curator Susie Cox explains: 'Our Women on the Waves exhibition began as a reaction to P&O's 1950s Men of the Ships recruitment campaign. We knew that women seafarers were few then, but the campaign's casual and callous disregard for women was deeply unsettling. To learn that women officers were forced to abandon careers they loved, at only 40, came as a real shock.'
So Ms Cox, with Beth Ellis, the curator of digital collections, set about rediscovering the Women of the Ships. 'Female seafarers are greatly underrepresented in our archive collections,' she notes. 'But we hope this exhibition will help redress this imbalance, as well as encourage other women to share their stories with us.'
How the Women on the Waves exhibition works
Women on the Waves is an online-only exhibition. A physical exhibition would have boards and glass display cases. Instead, this one has 23 'panels'. Each panel has accompanying 'treasure chests' containing 10-20 pictures. With a click of a mouse, those who want to delve deeper can find films, drawings, audio stories, quotes, and many photos.
Women on the Waves shows the story of UK women on the vast range of ships that at one time made up the once-mighty P&O. Shaw Savill, the British India Steam Navigation Company, the Orient Steam Navigation Company, and the New Zealand Shipping Company are among the employers.
The history of women who were paid to sail begins around 1821. Images of stewardesses on the Mongolia in 1903 give us a clue about the tiny minority of female employees tasked with looking after the lady passengers below decks.
From around 1910, the several thousand stewardesses were joined by a few women as kiosk attendants, nursing sisters, and typists. Steam queens entered long-distance liners and found laundering 'anything but regal'.
From Can Can to captain
The 1950s brought hairdressers galore, children's hostesses, and social hostesses. Women assistant pursers (WAPs) doubled as high-kicking entertainers and agony aunts. The 'Yes we can can' treasure chest features a film of WAP Gillian Angrave, whose memoir From Oceans to Embassies was reviewed in the June 2020 Nautilus Telegraph. In the film, she says that, unlike today's top-class cruise entertainers, 'We were IT!'
After the introduction of basic equality legislation in the UK of the early 1970s, everything changed. Women in significant numbers altered shipboard culture. Non-traditional jobs included 'lady Marconi men', 'she-captains' and female engineers.
Dr Daphne Conlon on the Uganda found that female surgeons were so rare, as late as 1975, that one passenger remarked: 'Thought you were just a myth'.
The exhibition's central image is a 1920s cartoon showing that ludicrous fantasy: a woman captain. As if! But the exhibition comes bang up with panels about the many women who've become navigators today. Captain Ade Puspitaloka, the first and only female tug master in Dubai's Jebel Ali Port, is one.
Bricks-and-mortar maritime museums have previously regretted that lack of evidence makes it hard to display diverse histories. Women on the Waves uses only one company's archives. Yet its richness proves that actually it's possible to steam towards staging successful exhibitions about seafaring women.
Women on the Waves is just one of many online exhibitions staged by P&O Heritage to share some of the collection's 35,000+ items. Exhibitions range from cartoons to containerisation, 'Ten-pound Poms' to lost letters.
Cutty Sark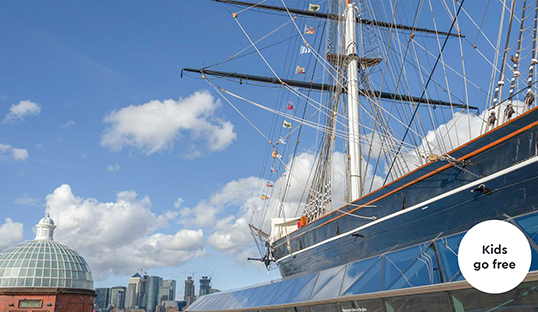 What's there?
Celebrated historic sailing ship and fastest of its time. Now a well-known visitor attraction in Greenwich, London, with displays on its decks about its cargoes of tea and wool, and an insight into the lives of its crew members. Also features a famous collection of ships' figureheads in a sunken museum area below the hull.
When and how is it reopening?
The museum reopened on 18 July to members and 20 July to the general public – the first of the Royal Museums Greenwich to reopen. All visitors must book tickets online in advance and reserve their date and time in order to ensure social distancing. Other hygiene measures in place include hand sanitiser, card-only payments and suspension of audio guides and touch screens. Free child ticket with each adult ticket from 20 July to 31 August 2020.
What's online?
The Cutty Sark website is strongly focused on bringing visitors back to the site, but there are some online facts and figures about the history of the vessel.
Scottish Maritime Museum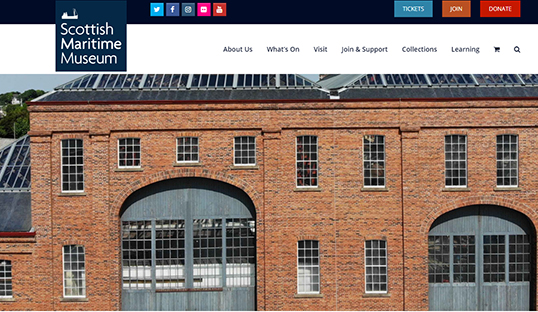 What's there?
An important maritime collection housed mainly in the Scottish towns of Irvine and Dumbarton. Includes a variety of historic vessels, artefacts, art, personal items and a large collection of shipbuilding tools and machinery. The buildings and sites which the Scottish Maritime Museum occupies are themselves part of the heritage collection.
When and how is it reopening?
At the time of writing, there is currently no date for reopening.
What's online?
The Scottish Maritime Museum has declared 'We are still open online', and efforts have been made to increase social media activity and enhance the website. The Collections section of the site is particularly worth a look for its Collection Blog, in which historians write about highlights of the museum such as the QE2 Starboard High Pressure Turbine Pattern, and delve into the photo archive to explore the construction of the coaster Lady Dorothy. Elsewhere, there are virtual tours of the museum's historic vessels MV Spartan and SY Carola.
SS Great Britain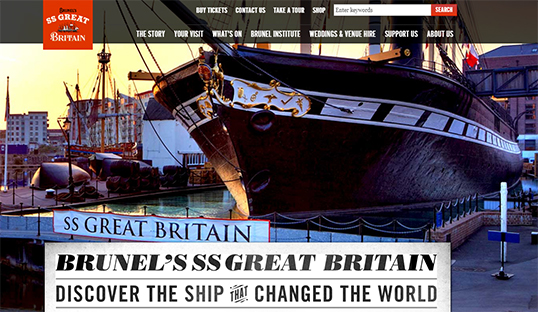 What's there?
World-renowned Isambard Kingdom Brunel steamship,now 'Bristol's number one attraction' in the docks where it was built. Visitors can walk the vessel's history in the Dockyard Museum and step onto the ship itself. 'Alive with sights, sounds and even smells, prepare to set sail on the most extraordinary time machine.' The site also houses the Brunel Institute, an academic archive which is unusual in that all its documents and artefacts are open to the public on request.
When and how is it reopening?
The museum reopened on 18 July, in time for the 50th anniversary celebrations of the vessel's return to Bristol. Visitors need to pre-book a timed admission slot, sanitise hands on arrival, maintain a safe distance between their bubble and others, and wear a face covering when inside the site's indoor spaces, including the ship itself.
What's online?
In 'The Story', the website www.ssgreatbritain.org has decent online versions of the real-life displays at the museum, including a timeline of the vessel's history since its launch in 1843, a biography of its architect Isambard Kingdom Brunel, and the story of Captain John Gray – a long-serving master who was 'the most celebrated captain in the British merchant fleet'. There is also a fantastic searchable Global Stories database for looking up people connected with the SS Great Britain, and an interactive map showing where the vessel was on any given day in its history.
Titanic Belfast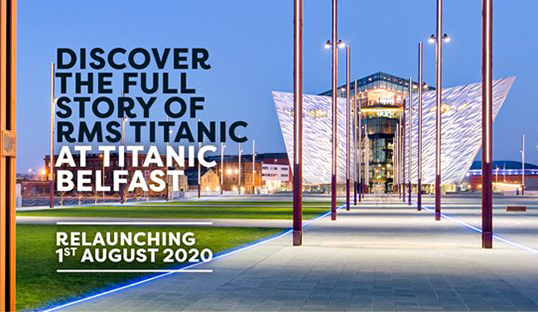 What's there?
Popular historical attraction in the Northern Ireland shipyard where the RMS Titanic was built. Tells the story of the vessel through interactive galleries, reconstructions, 'dark rides', a collection of artefacts and a chance to visit the Titanic's original tender SS Nomadic.
When and how is it reopening?
The museum reopens on 1 August 2020 with a range of social distancing and hygiene measures in place. All visitors must pre-book their tickets online and use contactless payments in the café and shop. Spacing and one-way systems are in place on the tour routes, and visitors must regularly wash their hands and use sanitiser. Masks are required in the shop, and the café is take-away only.
What's online?
The attractive Titanic Belfast website is primarily about whetting visitors' appetites for the rides and tours on offer, but if you dig down into the Explore and Discover sections, you find some surprisingly detailed information about the museum's artefacts, and even some essays on maritime history. A hidden gem worth seeking out is On This Day, which lists historical events from the Belfast docks and the ships built there for any day of the year you enter.
More maritime museums
Dover Museum and Bronze Age Boat Gallery – at the time of writing, no date for reopening, but making preparations
Hovercraft Museum, Lee-on-the-Solent, Hampshire – due to reopen on 25 July 2020
Mary Rose, Portsmouth – reopening 24 August in a special collaboration with the the National Museum of the Royal Navy (NMRN) at the Portsmouth Historic Dockyard. This will include a new joint ticket, which will enable visitors to explore all of the dockyard's extraordinary ships, galleries and experiences with one, simplified ticket, which will go on sale from 6 August 2020.
Merseyside Maritime Museum, Liverpool – no date for reopening at the time of writing, but its online offering features an article by Nautilus general secretary Mark Dickinson on Supporting our Seafarers
National Maritime Museum Cornwall – due to reopen on 27 July 2020
National Maritime Museum, Greenwich, London – expected to reopen later in the summer as part of the phased reopening of Royal Museums Greenwich
National Waterfront Museum, Swansea – planning to reopen in the week beginning 24 August 2020
Portsmouth Historic Dockyard, Portsmouth – reopening on 24 August 2020 with the new 'Ultimate Explorer' ticket. All tickets will go on sale from 6 August 2020.
Russian Arctic Convoy Museum, Loch Ewe, Scotland – no date for reopening at the time of writing
Sea City, Southampton – no date for reopening at the time of writing, but making preparations
Favourite museum not here?
The maritime museums on this page are not intended as an exhaustive list, and we know there are many local collections around the UK that would be pleased to see visitors return – or which provide interesting material online. If you have information about a maritime museum you like, please email telegraph@nautilusint.org and tell us about it.
---
Tags