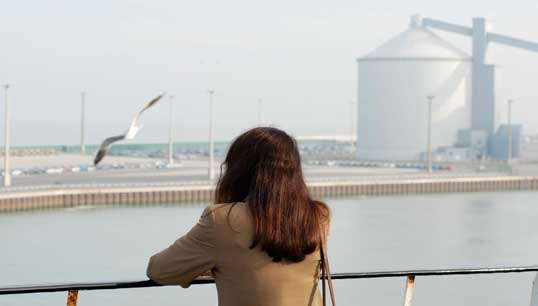 The wife of a seafarer has revealed the devastating impact on those left behind by the crew change crisis in a new podcast recorded as part of the Union's Crew Change for Christmas campaign.
During an emotional interview, she revealed that while her husband was expected to return from a three-month contract at the beginning of November, there was now no sign of when he might be able to return home.
As the days pass, it is becoming increasingly unlikely that the couple will be reunited in time for Christmas.
'I kept on saying to myself, he'll still be home for Christmas – it'll be fine,' she said 'but it's got to December and the realisation has set in that he probably won't be home for Christmas, and who knows when he will get home again?'
Her husband is a member of Nautilus and works as an engineer on a tanker, which is currently travelling towards Taiwan.
She told the Union that while he usually worked away for three weeks at a time, work opportunities began to dwindle as a result of the pandemic, leading to a three-month assignment being accepted instead at the beginning of August.
Even before the impact of the crew change crisis became apparent, this had already been an extremely difficult few months: 'I'd been in hospital just before all of this happened. I really was quite sick. He was away while I was hospitalised and there was nobody around. I had nobody here with me in Edinburgh.
'I know that he worries about me while he is away. He worries that something unexpected might happen and there is absolutely nothing that he could do. And there is nothing that I can do for him to placate his feelings. It's a horrible situation.'
Against the backdrop of such a challenging period, Christmas had taken on a much greater significance this year: 'I'm used to him not being here for Christmas, but at the same time, it's never been for this long before, so we always manage to celebrate before, or just after.
'I booked a nice hotel here in Edinburgh. It's just up the road, but it was a place to get away for a couple of nights. We were really looking forward to it. I've delayed it now until between Christmas and New Year, but we don't even know if it will be possible then.'
The week leading up to when her husband should be home started becoming really hard.
'My mental health is suffering, and I know that his must be as well.
'I know that he's finding it really hard, but he's staying really strong because he doesn't want to upset me. I wish that I had his strength.'
---
Tags